Salam supports Syria's revolution, and Lebanon neutrality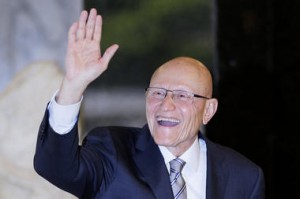 In his first interview as the Lebanese PM designate Tammam Salam declared his support for the Syrian people's revolution but stressed that he wants to shield Lebanon from regional events, by enforcing a policy of dissociation and neutrality.
"I am with the Syrian people's revolution and I will not deny it. I will express my support whenever it does not contradict the interests of my country".
"When officials cling to their positions, then the people become the holders of eligibility and we support their revolution". He said during his interview on LBC on Saturday.
He briefly outlined his stance with regards to various issues:
Type of cabinet : Salam announced that the new government will be known as the "National Interest Cabinet", adding that he seeks to form a council of ministers whose members are not nominated for the parliamentary elections.
"What is needed now is a neutral cabinet that carries the parliamentary elections as the polls are very important for Lebanon" he confirmed, adding that it will abide by the Baabda Declaration.
" A one-sided cabinet did not succeed in transferring Lebanon into a new stage," Salam stresses in reference to the outgoing cabinet of PM Nagib Mikati
"However, we will definitely have a political cabinet after the elections". He added.
Upcoming elections: Salam stressed that the June elections are a must , even though there may be a technical delay but said that there will be no extension for the term of the parliament .
"We are proud of Lebanon's democracy and this system means rotation of power. This is why elections are a must," he explained.
Dissociation policy: Salam expressed his support for Lebanon's dissociation policy but warned that it should be strictly implemented
"There is no doubt that the policy of disassociation is a good one for Lebanon," Salam said, "so long as it is followed to the letter."
"The different parties should commit themselves to that and not adopt difficult positions." He stressed in a possible reference the the position taken towards Syria by some members of the outgoing cabinet who are loyal to Hezbollah.
Last month, caretaker Foreign Minister Adnan Mansour , who is closely linked to Hezbollah called on Arab foreign ministers gathered in Cairo to allow the Syrian government to retake its seat at the Arab League, from which it was suspended in 2011, despite the fact that Lebanon's official policy was to be neutral on the issue.
Hezbollah arms: Salam said he still maintains his position that Hezbollah arms should be pointed at the enemy and not internally at the Lebanese people.
"I am with the (anti-Israeli) resistance when it is pointed in the right direction and when it is a matter of defending Lebanon," Salam said.
But "when that arsenal is turned toward the inside of the country for the purpose of influencing the (political) balance, that is straying from the resistance." He stressed adding that the " defense strategy will be discussed at the dialogue table."
Credits for his nomination:
Salam credited Progressive Socialist Party leader MP Jumblatt in choosing him to head the new cabinet:
"This issue is not about names but about how to pull Lebanon out of the crisis and Jumblatt is a centrist figure that was able to communicate with all factions. We thank him for this".
He also credited Speaker Nabih Berri for his role in his his nomination
"Speaker Nabih Berri did have an effective and influential role in this respect," he pointed out.
He also thanked former PM Saad Hariri:
"I thank ex-PM Hariri who has a dream for this country".
On the Saudi role in his nomination Salam revealed that he held talks with Bandar bin Sultan during his trip to there.
"I held talks with Prince Bandar bin Sultan to discuss future stages and the KSA played an important role in Lebanon and it supported the country's unity and independence. It always stood by Lebanon's side".
He denied receiving a phone call from Saudi Arabia's King Abdullah congratulating him on becoming the PM-designate.
Commenting on Marada Movement leader Suleiman Franjiyeh's boycotting of the parliamentary consultations Salam said: "This is his choice and he might have reasons that I am not aware of. I do not know why he refused to nominate me."
Commenting on Hezbollah he said : "Hezbollah is a major component in Lebanon",he called for the support of Hezbollah leader Sayyed Hassan Nasrallah .