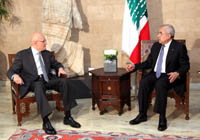 Lebanon's president Michel Suleiman formally asked  MP Tammam Salam to form a new government on Saturday after he won overwhelming support from parliamentarians to be the new prime minister designate.
Salam was appointed two weeks after the collapse of the government   of Prime Minister Najib Mikati, whose two years in office were dominated by efforts to contain sectarian tensions, violence and economic fallout from the conflict in neighboring  Syria
His immediate task, if he is able to form a cabinet accepted by Lebanon's rival political forces, will be to prepare for a parliamentary election which is due in June but faces likely delay. No agreement has been reached yet on an electoral system under which the vote will take place.
Salam, born in 1945 into a prominent Sunni political dynasty, served as culture minister between 2008 and 2009. He is the son of the late Saeb Salam, who served six times as Lebanon PM
He is close to the March 14 coalition but was seen as a consensus candidate and also won the backing of the March 8 bloc, which includes the Iranian-backed Shi'ite Hezbollah group.
But a source in the March 8 group said that despite the broad support for Salam's nomination, he might face a lengthy struggle to form a government. His predecessor, Mikati, took five months to assemble his ministerial team.
Reuters/ agencies