Geagea: Tammam Salam's nomination is "made in Lebanon"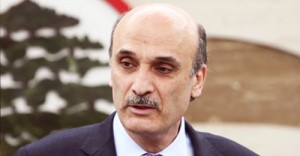 Lebanese Forces leader Samir Geagea praised the decision taken by the March 14 alliance to nominate MP Tammam Salam to the premiership, describing the choice of his nomination as "Made in Lebanon"
"Salam is a moderate person and posseses characteristics that we desperately need at this particular time ," Geagea said in comments to al-Akhbar newspaper that were published on Friday.
Geagea denied rumors that Salam was selected by Saudi Arabia as some March 8 media tried to implicate , saying: "When the cabinet of PM Nagib Mikati collapsed we discussed the nomination of several figures including Salam."
Geagea called for the formation of a neutral cabinet.
"A neutral cabinet that is capable of overseeing the upcoming parliamentary elections and resolving the security and economy crises is the appropriate choice for now ", Geagea said
It appears that Salam has already secured his nomination.
Following March 14's and the Progressive Socialist Party's decision to to nominate Salam on Thursday evening, outgoing premier Najib Mikati said in comments published on Friday that he supported Salam.
"I hope that… his nomination will be a unifying factor," Miqati told An-Nahar newspaper.
Speaker Nabih Berri's Development and Liberation bloc was the first of the March 8 coalition to officially support Salam.
"The Development and Liberation bloc has decided to nominate Tammam Salam at the head of a consensual nationalist government," Berri said following a meeting of his bloc at his residence in Ain al-Tineh on Friday.
"The former majority is going up these centrist steps alongside Jumblatt with the hope that we will reach the highest peaks of the nation." He added
Lebanese Democratic Party leader MP Talal Arslan, also voiced support for Salam.
Just as the parliamentary consultations sponsored by President Michel Suleiman kicked off at 4 pm, Free Patriotic Movement leader MP Michel Aoun also threw his party's support behind Salam.
So far the only declared exception is Marada leader Suleiman Franjiyeh, who announced that he was going to boycott the consultations with the president on Saturday morning.
" Salam's announcement of his candidacy on Thursday from the residence of MP Saad Hariri brought to light his obvious allegiance to a political party, therefore I decided to boycott the parliamentary consultations," Franjieh said on Friday.
According to FPM MP Alain Aoun, PSP leader MP Walid Jumblatt engineered the nomination of Salam.
Jumblatt told LBC that he was convinced of the facilitating role that Salam could play as a premier, especially regarding March 8's main pillar, Hezbollah.
"I allowed myself to nominate Tammam Salam because he is moderate and independent."
"I told Hezbollah that this person Salam has never said anything bad about the Resistance." Jumblatt added.
Jumblatt assumed a centrist role following the 2009 elections.
Salam is the son of six-time former PM Saeb Salam and has himself served as culture minister in Fouad Siniora's cabinet between 2008 and 2009.
He won a seat in parliament in 2009 while running on the March 14's electoral list in the Beirut III district.
The outgoing cabinet of caretaker PM Nagib Mikati was dominated by Hezbollah and was reportedly "Made in Syria"