A Huge fire near Jeita Country Club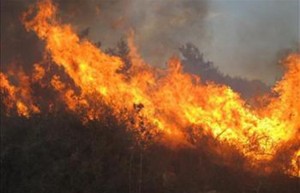 A huge fire erupted on Monday on the road to Jeita Grotto near the Jeita Country Club resort, gutting all trees across 3 square kilometers of forestland, National News Agency reported.
Civil Defense crews were still trying to contain the flames according to NNA
No injuries were reported
NNA said said the blaze was caused by the power lines installed over the forest.
NNA added that the Jeita Country Club is safe .