2,000-year-old Synagogue looted, burned in Damascus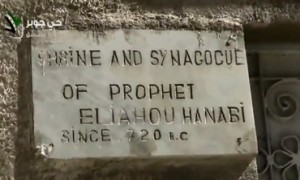 The 2,000-year-old Jobar Synagogue in the Syrian capital of Damascus , one of the oldest in the world was looted and burned to the ground, Jerusalem Post reported on Monday.
The Syrian army loyal to President Bashar Assad and rebel forces are blaming each other for the destruction of the historic synagogue, according to reports on Sunday.
The rebels said the Syrian government looted the synagogue before burning it to the ground, Israel Radio reported Sunday.
The government said the rebels burned the synagogue and that  the Zionist agents stole its historic religious items in an operation that had been planned for several weeks, Al-Manar Television of Lebanon's Hezbollah reported, citing the Arabic Syria Truth website.
The Zionist agents were assisted by the Jordanian Kingdom, Turkish militias, the so-called "Free Syrian Army" and al-Nosra front of al-Qaeda which controls the area, Al-Manar Television quoted Truth website as saying.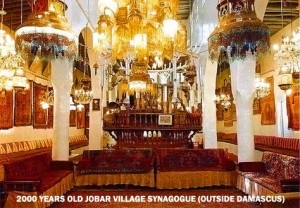 Al-Manar also reported that sources claimed that a Zionist commandos unit composed of 15 members landed in Damascus earlier this week and removed rare items from the temple known as "Eliahoo." The operation was carried out with the help of Islam Brigades militia, noting that the Zionist commandos were divided into 5 teams in order to get out of Syria through five different directions. The commandos were reportedly of Arab origin, Iraqi, Moroccan and Lebanese, and were dressed in Islamist jihadists' uniforms, the sources claimed
The Jobar Synagogue is located in the suburb of Jobar, Damascus. It was built in commemoration of the biblical prophet Elijah, and has been a place of Jewish pilgrimage for many centuries.
Six World Heritage sites in Syria were damaged by the Syrian civil war from shelling and open fire between regime forces and rebel fighters. The fighting left historic buildings, archaeological sites and residential areas in ruins.