SNC chief slams Hezbollah, Iran over interference in Syria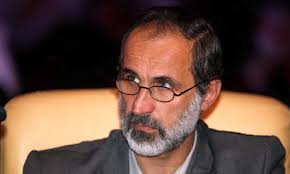 Syrian National Coalition president Moaz al-Khatib denounced the continued interference of Lebanon's Hezbollah and Iran in Syria's crisis, Al Watan newspapers reported on Sunday .
This comes after reports that Iran and its proxy Hezbollah have jointly set up an armed militia group called Jaysh al-Shabi to defend the regime of the embattled Syrian president Bashar al Assad and to prepare for a future role in Syria after the fall of the regime.
According to the report as many as 50,000 Iran-backed militiamen are operating in the war-torn Syria. Tehran provides them with cash and armor, while the Iranian Revolutionary Guards and Hezbollah oversee their training. Iran and Hezbollah have denied these allegations even though they openly support the regime.
Several Hezbollah fighters have been killed in Syria and buried in Lebanon according to these reports .
Syria has been locked in an increasingly bloody civil war since peaceful demonstrations broke out against President Assad in March 2011. According to UN estimates, at least 70,000 people have been killed in the conflict, but the estimate is over 3 months old and the average daily death toll since has been over 200 which makes the actual number of casualties closer to 90, 000.
Lebanon , a country of 4 million is now hosting over a million Syrians. Some are refugees and some are workers who could not earn a living in Syria.