Rai: Lebanon needs officials who believe in their country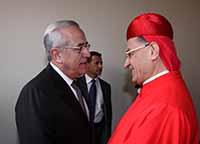 Maronite Patriarch Cardinal Beshara Boutros Rai said during his Easter mass at Bkirki that Lebanon needs officials who truly believe in their country, LBC reported on Sunday .
Rai called on every official to abandon his personal interests and serve the nation and the people, noting that the duty of the political authority is to preserve the rights and dignity of every individual, the report added in a possible reference to the bickering in Lebanon over the shape of the next cabinet, the upcoming elections and the type of electoral law that should be used, while the country is witnessing its worst economic crisis in years, with high unemployment that is forcing the young people to emigrate.
"We are witnessing a dangerous stage in Lebanon and the East", he said adding :"We pray for the Christ to save us from death, destruction and displacement," Rai said in a possible reference to the uprising in Syria where over 70, 000 have been killed and over 5 million displaced .
Earlier on Sunday Rai met privately with president Michel Suleiman at Bkirki. Following the meeting Suleiman stressed the need to hold the parliamentary elections on time, rejecting the possibility of extending the term of the current parliament.
He said: "The political parties are obligated to agree on a new electoral law and they cannot escape from this duty."
The president reiterated the patriarch's statements over holding the elections on time, adding: "The new government will be tasked with holding the polls, limiting the repercussions of the Syrian crisis on Lebanon, and maintaining stability."
On the debate over the electoral law, Suleiman noted: "The majority of the Lebanese people do not want to hold the elections based on the 1960, but they also want the elections to be held."
The government had already approved a draft electoral law, which is the most appropriate one at the current time, he said of the proposal which adopts the proportional representation system and divides Lebanon into 13 districts.
"Failing to hold the elections and leading the country towards political vacuum is a sin," he declared.
Moreover, he stated that no one can obstruct the elections because staging them is stipulated in the constitution.
"They should be held regardless of what type of government is formed," he remarked.
In addition, Suleiman revealed that he will renew his call to the political parties to return to the national dialogue.