A Wiam Wahab supporter was killed by a Jumblatt supporter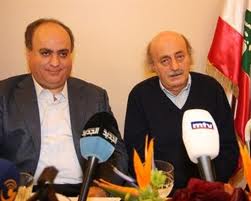 Jad Baeeny , one of the supportes of former Minister Wiam Wahab died from his wounds Saturday evening after he was shot by Ayman al Fatayri, one of MP Walid Jumblatt's supporters , LBC reported Saturday evening.
According to the report Bashar and his brother Jad Baeeny and Kifah Hani , all supporters of Wiam Wahab had a personal dispute with a restaurant owner in Bakaata, Shouf region. Ayman al Fatayri who was not involved in the dispute fired shots at all three and fled towards Jumblatt's hometown Al Mukhtara which is very close to Bakaata.
Jumblatt's progressive Socialist Party was able to locate Fatayri within less than one hour and handed him over to the internal security forces.