Jumblatt: dissociation policy failed because of Iran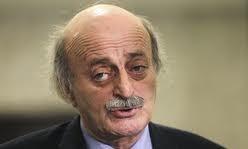 Progressive socialist party leader MP Walid Jumblatt said that Lebanon's dissociation policy towards the Syrian uprising has failed because the Islamic republic of Iran ordered Hezbollah to defends the regime of president Bashar al Assad.
In an interview with the pro-Syrian Al Akbar newspaper Jumblatt seemed assured that Hezbollah will not apply the same pressure on him this time like it did following the collapse of Saad Hariri's cabinet, because the party knows very well this is not 2011.
Jumblatt rejects the idea that he has regained his role as a kingmaker, a figure who is able to both shape the next government and determine which election law will be adopted for the parliamentary elections.
"I cannot accept any side being left out," he said, suggesting that he does not plan to back a particular bloc as he did in 2011 with the previous government. "This is a very dangerous period." He stressed.
So what do you think should be done? "The return to dialogue," he said.
He denied reports that he will name Caretaker PM Nagib Mikati to head up the next government, insisting that the selection be made collectively by the main political forces. If it is going to be a government of technocrats, as some are proposing, Jumblatt said he would name businessman and head of the Arab Chamber of Commerce Adnan Kassar.