Egypt's NSF to protest Friday against the prosecutor-Gen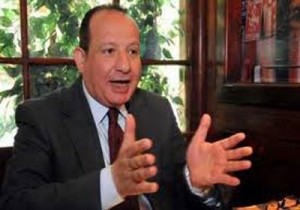 The National Salvation Front (NSF), Egypt's leading opposition umbrella group, has called for Friday protests to show solidarity with political activists charged by the prosecutor-general with inciting violence during last week's clashes near the Muslim Brotherhood's Cairo headquarters.
"We're calling on the Egyptian people to participate in Friday's protests in public squares throughout the country to show solidarity with icons of the opposition against the aggression of the prosecutor-general," leading NSF member Hussein Abdel-Ghani declared at a Wednesday press conference.
Abdel-Ghani went on to claim that "those pursuing these revolutionary icons are actually the counter-revolution."
The protest calls follow a decision by Prosecutor-General Talaat Abdullah to issue arrest warrants against four prominent "activists," including Alaa Abdel-Fattah and Hazem Abdel-Azim. Both men have been charged with inciting violence against the Muslim Brotherhood's headquarters in Cairo's Moqattam district.
Some political figures and groups accuse Abdullah of having sympathies with the Muslim Brotherhood and ignoring complaints against Brotherhood officials who were accused of inciting violence during last December's clashes outside the presidential palace in Cairo.
Protest demands will include Abdullah's dismissal and the appointment of a new prosecutor-general according to the terms of Egypt's new constitution.
Earlier this week, Cairo's Appeal Court overturned the appointment of Abdullah by President Mohamed Morsi in a highly controversial decree last November. It remains unclear whether the presidency will comply with the court order.
The NSF has also asserted that its planned protest would target Morsi and the latter's recent "warnings" to the opposition. In a Wednesday statement, the NSF criticised Morsi and what it described as the president's "threats against the Egyptian people."
"The NSF denounces the president's threats against the Egyptian people after a great revolution in which the people made it clear that they would not give in to any dictatorship," the statement asserted. It went on to hold Morsi and his policies "completely responsible" for recent spates of political violence.
On Sunday, President Morsi warned Egyptian opposition parties and groups via Twitter against "providing violence with political cover." Later the same day, Morsi said in a speech that he would not hesitate to use his executive right "to impose exceptional measures to restore domestic order."
Along with the NSF, 12 political youth groups – including the 'Free Front for Peaceful Change' and the 'Youth for Justice and Freedom' movement – announced their intention to take part in Friday's planned protests.
The rally will be held under the motto 'We are not threatened.' Protest organisers say they hope to "send a message that we aren't afraid of threats from the president and prosecutor-general."
Protests in Cairo will be held outside the Supreme Court building and the nearby prosecutor-general's office in the capital's downtown district.
Ahram on line