69 of 128 Lebanon MPs want Rifi to stay as ISF chief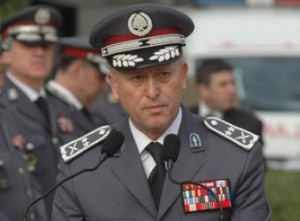 A delegation of March 14 MPs handed Lebanon Speaker Nabih Berri a petition calling on him to convene the parliament before the end of the March in order to pass a draft law to raise the retirement age of soon-to-retire security officials, Tripoli MP Samir Jisr said after the meeting.
"In principle, [Berri] supports increasing the retirement age," Jisr said .
The petition was signed by 69 out of 128 parliament members . All the centrists including Caretaker PM Nagib Mikati, caretaker Ministers Mohammad Safadi and Ahmad Karami and all MPs from Walid Jumblatt's parliamentary bloc signed the petition.
ne of the main reasons that Mikati resigned Last Friday was because the Hezbollah-led March 8 alliance which dominated the cabinet refused to extend the term of Maj. Gen. Ashraf Rifi, the Internal Security Forces chief. Rifi's term ends on April 1, based on current retirement age.
When Mikati's government was formed in 2011 there were reports that Hezbollah wanted to control the cabinet in order to fire Rifi and the Intelligence Chief Wissam al Hassan. Hassan was assassinated last October. Hezbollah and Syria were accused of being behind his murder.