Hezbollah, FPM are pushing for adoption of the Orthodox law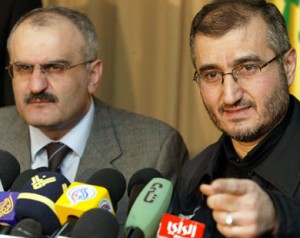 A Hezbollah delegation held talks on Wednesday with Free Patriotic Movement leader MP Michel Aoun in Rabiyah to discuss the electoral law that will be used in the upcoming elections, Hezbollah's Al Manar reported on Wednesday.
"We hope that the Orthodox Gathering draft law will be the first article of the agenda of the next parliament session," Hezbollah Secretary General Sayyed Hassan Nasrallah's political aide Hussein Khalil was quoted by Al Manar as saying after the meeting.
"The date and agenda of the session is up to the speaker, who is holding consultations with various political powers," Khalil , who did not reveal any other details on the closed door discussions added.
The meeting, was reportedly attended by Amal minister Ali Hassan Khalil and Aoun's son-in-law, energy minister  Gibran Bassil.
Al Manar also reported that MPs of Hezbollah, Amal Movement and Free Patriotic Movement held a meeting at the Parliament Wednesday in Beirut's Nijmeh Square, during which they urged Amal chief Speaker Nabih Berri to hold a parliamentary session for the approval of the so-called Orthodox Gathering draft-law.
The Orthodox draft law, which calls for proportional voting along sectarian lines had been endorsed by the country's four major Christian parties. However, it was met with severe opposition from the Future Movement, the PSP, the independent March 14 Christian MPs, as well as President Michel Suleiman and caretaker PM Nagib Mikati
The Orthodox law was approved by the parliamentary joint commissions in February, but sparked angry responses from the Future Movement, independent March 14 Christians and the Progressive Socialist Party who refuse it for its sectarian nature.
In an interview published early March by As-Safir newspaper, Mikati reiterated his call for a consensual electoral law and his rejection of the so called Orthodox Gathering electoral draft law.
"The Orthodox law will legalize federalism and cantons and will undermine the Taif Accord," Mikati who has since resigned told the daily.
The PSP leader was quoted today as saying " If Speaker Berri will include the Orthodox draft law in the agenda,  all our MPs will walk out from the parliament ".
Photo:  Hezbollah's  Hussein Khalil (R)  and Amal's Ali Hassan Khalil, who are known in Lebanon as The Khalils met on Wednesday with FPM leader Michel Aoun to push for the approval by the parliament of  the Orthodox electoral law