Gemayel calls for UN forces along Lebanon-Syria border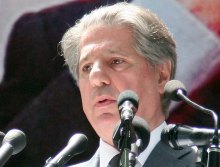 Former Lebanese president and current Phalange Party leader Amin Gemayel warned on Tuesday over the spread of terrorism to Lebanon as a result of the Syrian violence and called for UN forces similar to UNIFIL to be stationed along the borders with Syria .
During a conference in Washington, D.C. on the Arab awakening and transitions to democracy Gemayel said:
The international community should help in maintaining calm along the Lebanese-Syrian northern border by way of the deployment of international forces similar to UNIFIL in the south."
Syrian troops have conducted a number of incursions into Lebanese territory, some of which have resulted in fatalities.

Gemayel remarks come 5 days after five shells that were fired from Syria landed in Lebanon , one day after Lebanese President Michel Suleiman warned that Syrian strikes on its neighbor were an unacceptable violation of its sovereignty.