Mikati: We should demilitarize all Lebanese cities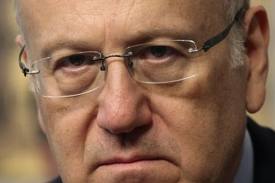 Lebanon's Caretaker Prime Minister Najib Mikati urged the disarmament of all the parties on Lebanese territory.
"Security is the [most important thing, that is why] we should demilitarize all Lebanese cities," Mikati said on Monday from his residence in his native city of Tripoli.
Mikati also called for the formation of a "salvation" cabinet to replace the government that collapsed when he announced he was stepping down from his post on Friday evening.
Mikati's cabinet collapsed when Hezbollah and its allies blocked the creation of a body to supervise the upcoming parliamentary elections and refused to extend the term of Internal Security Forces chief Ashraf Rifi.
Mikati announced his resignation on Friday at the Grand Serail following the last cabinet session at the Baabda palace.
On Saturday, President Michel Suleiman accepted Mikati's resignation and requested him to continue in his role at the head of a caretaker government until a new one is formed.
Hezbollah's motive
There is a lot of speculation on why Hezbollah did not cooperate with Mikati over Rifi's issue, specially since they are both from Tripoli and such an issue is very important for Mikati if he intends to run in the upcoming elections. But it appears that Hezbollah refused to extend Rifi's term with the aim of installing Maj. Gen. Ali Hajj as his replacement in oder to have complete control of the security of the country.
In fact , Hajj the former police chief who was arrested and later freed by the U.N.-backed Special Tribunal for Lebanon ( STL) probing the assassination of former Prime Minister Rafik Hariri said Saturday that given his rank, he was entitled to replace Rifi once he retires as the acting commander of the Internal Security Forces.
Progressive Socialist Party leader MP Walid Jumblatt warned Friday, shortly after the Prime Minister Najib Mikati announced the resignation of his Cabinet, that there was a plan of replacing Rifi with Hajj .
"Although he was technically considered innocent of the killing of Rafik Hariri, we do, however, consider him politically involved in the assassination," Jumblatt told LBCI television on Friday.
Hajj and three other security and military officials were arrested in 2005 at the request of the Special Tribunal for Lebanon for their suspected involvement in the assassination of Hariri, although no charges were ever filed against them. STL chief at the time stressed that their release did not mean they are innocent.
Mikati slams Aoun
Mikati on Monday also slammed Free Patriotic Movement leader Michel Aoun for insinuating that his resignation had been inspired by the United States.
"Had my resignation [letter] been written at embassies, as some have claimed, it would have faced strong rejection, given the negative responses that were made by some [Western countries] immediately after my resignation," Mikati told As-Safir newspaper.
"The reasons behind Mikati's resignation are silly and (president ) Suleiman behaved like a dictator in trying to impose the formation of the committee to supervise the upcoming elections," Aoun told Sawt al-Mada radio station.
"The visit of the U.S. ambassador to some politicians is what brought to light the issue of forming the supervisory committee and Suleiman supported such a course," said added.
Future government
In a separate interview with Al-Liwaa newspaper, Mikati reiterated that he had yet to decide whether to run again for the post of prime minister.
"I cannot say that I am a candidate for premiership simply because I haven't yet decided," Mikati said, pointing out that he was adopting a wait-and-see approach.
Sheikh Nabil Qaouk, an official in Hezbollah, also slammed Monday Mikati's decision to resign, saying it would not resolve the elections crisis in the country.
"The resignation of the prime minister whatever the causes – personal or for internal or external political [reasons] –will not resolve the electoral law problem afflicting the country," Qaouq told a local gathering in the southern border town of Bint Jbeil.
Another Hezbollah official Bekaa chief Mohammed Yaghi considered on Sunday that Mikati's resignation was a "misstep", revealing that "he will no longer be nominated to head a cabinet".
"Those who have submitted their resignation will not be nominated to head the future cabinet because we want to protect Lebanon in these tough times," Yaghi said at an event celebrating Mother's Day in the Bekaa town of Shmestar
Talks have emerged on the future cabinet, with the Phalange Party calling for a salvation government, the FPM backing a coalition cabinet and the Future Movement calling for the formation of a neutral government. Speaker Nabih Berri rejected the idea of a new cabinet based on neutrality or technocracy.