Unconfirmed reports: Assad shot by his Iranian bodyguard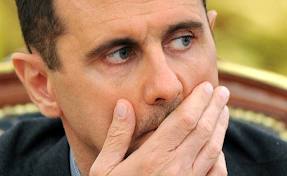 Online reports of Syrian President Bashar Assad's death appeared greatly exaggerated Sunday.
Arab media said Assad was purportedly shot by one of his Iranian bodyguards Saturday night and was in serious condition.
He was supposedly taken to Al-Shami Hospital in Damascus, where surrounding roads were closed off.
But online updates said the Syrian leader's shooting was false and that he was alive and in high spirits. The conflicting reports highlight the chaos that continues to engulf the country, which has been mired in a bloody civil war for two years.
Update: His assassin was identified as Mehdi Jakoby , a member of the Iranian Revolutionary Guard who was in charge of presidential security.
Ya Libnan will update this report as more information becomes available
This is a developing story more to come
NY Daily News
Update: The reports continue to repeat the same stories. It is very difficult to verify such reports , because the Syrian government has severely restricted access to Syria for foreign journalists.