Gemayel: Lebanon in desperate need of salvation cabinet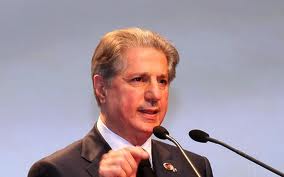 Former Lebanese president and current Phalange party leader Amin Gemayel said on Saturday that Lebanon is in desperate need of a salvation cabinet during this tense time.
"We desperately need a salvation cabinet as long as the situation in the country is tense, and it is possible that the situation in the region might reflect into Lebanon," Gemayel said during an interview with the Voice of Lebanon radio station.
Gemayel also reiterated the call for dialogue among all Lebanese factions in a bid to agree on the next cabinet's premier.
Gemayel's remarks came a day after Mikati announced the resignation of his government on Friday in Beirut, after Hezbollah and its allies blocked the creation of a body to supervise parliamentary elections and refused to extend the term of the country's police chief, who will retire on April 1.
Earlier on Saturday, President Michel Suleiman accepted Mikati's resignation and requested him to continue in his role at the head of a caretaker government until a new one is formed.
Now