Hezbollah slams Obama's call to brand it as "terrorist" group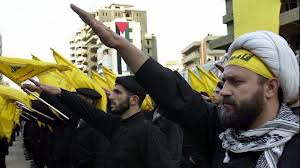 Lebanon's Hezbollah condemned on Friday a call by President Barack Obama for the militant Shi'ite group to be designated a terrorist organization following a bomb attack on Israeli tourists in Bulgaria last year.
The European Union has so far resisted U.S. and Israeli pressure to blacklist Hezbollah, but those demands are likely to increase after a court in Cyprus convicted a Hezbollah member on Thursday of plotting against Israeli interests on the island.
Obama said the killing of five Israeli tourists in July, which Bulgaria's government blamed on Hezbollah, as well as its weapons stockpile and support for Syrian President Bashar al-Assad, were all grounds to take a stand against the group.
"Every country that values justice should call Hezbollah what it truly is – a terrorist organization," he said in Jerusalem on Thursday. Washington has imposed sanctions on Hezbollah over the terrorism allegations.
Hezbollah says accusations against it are part of an Israeli smear campaign, while the European Union has resisted pressure to follow Washington's lead, arguing this could destabilize Lebanon's fragile government and add to regional instability.
The Islamist militant group said on Friday that Obama's comments, made during a visit to Israel, showed that the United States was only interested in satisfying the Jewish state, and reinforced its own commitment to armed struggle.
"Hezbollah…can only express its strong condemnation of these American positions…which place Washington in the position of full partner to the (Israeli) enemy in all its crimes," the group said in a statement.
The European Commission said two weeks ago it did not yet have sufficient evidence to make a decision about the group, which is also a powerful political force in Lebanon where its allies dominate the cabinet of Prime Minister Najib Mikati.
Hezbollah, established with Iranian support during Lebanon's civil war and blamed for devastating suicide bombings on the U.S. embassy and a Marines base in Beirut in 1983, fought an inconclusive 34-day conflict with Israel in 2006.
Israel killed 1,200 people in Lebanon during that war, most of them civilians, according to theUnited Nations. Hezbollah killed 160 Israelis, most of them soldiers on Lebanese soil. Both sides have said any future conflict would be deadlier.
The group accused Obama of taking Israel's side by telling the Arab world to accept Israel as a Jewish state and make peace without accepting Arab demands such as the return of millions of Palestinian refugees and a halt to Israeli settlements.
Obama's comments made him appear "like an employee of the Zionist entity rather than a top official in the administration of an independent country, the United States", it said.
It said his remarks strengthened Hezbollah's conviction that negotiations to resolve Arab-Israeli conflict were futile and showed that the correct approach was "resistance…as the only way to retrieve rights and dignity, freedom and independence."
Reuters