Iranians are both hopeful and fearful as Nowruz nears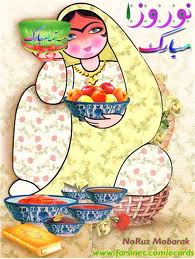 The Iranian new year arrives with the first moment of spring on Wednesday afternoon, and many here say they are happy to close the book on the past 12 months.
This year — 1391 on the Persian calendar that Iran uses — was by many accounts the most financially difficult for Iranians since the 1979 inception of the Islamic Republic. Western-led sanctions over Iran's nuclear program have damaged the country's economy and contributed to a massive currency dive that has dented the purchasing power of ordinary people.
So on the eve of a fresh start, many Iranians say they are both hopeful and fearful about the year to come, when the country is expected to face make-or-break decisions about its nuclear program and hold a presidential election, the first since the 2009 vote that led to protests and a violent state crackdown.
"I hope next year we do not have to deal with as many sanctions and the prices come down, as every day it's getting worse," said Abbas, 34, who works for an Iranian tobacco company. Like others interviewed for this article, he declined to give his full name, to avoid government retribution for speaking to a foreign reporter.
For now, the focus in Tehran is on preparations for the upcoming celebration. Pickup trucks loaded with handmade Persian rugs sent out for an annual washing — a Nowruz tradition — clog narrow residential streets as they return the carpets to their owners. The sound of small explosions — fireworks, mostly sold by hawkers who intrepidly weave in and out of freeway traffic jams — can be heard at all hours.
And Iranians are in shopping mode, though many say they are cutting back on some of the items they would usually buy at this time of year.
"I just can't bring myself to pay three times more for pistachios than I did last year," said Samareh, a 45-year-old domestic worker, referring to a traditional Nowruz snack. "At least the price of fish hasn't increased much," she said of a staple of Nowruz menus.
Amir, 51, a taxi driver who was stuck in midafternoon gridlock, said, "We complain that we don't have anything, but the truth is we've just learned to make do with less."
Traffic, a perennial issue in Tehran, is heavy this week as residents prepare for Nowruz. When the holiday officially begins Wednesday, however, Tehran will transform into a ghost town. Many residents typically flee the city for Iran's Caspian coast, one of its ancient cities or, for those with the disposable income, a few days abroad.
"This is an opportunity for us to forget about all of our problems for a couple of weeks," said Javad, the marketing director for a small import company. He said he would stay in Tehran during the two-week break because tour prices have become exorbitant and because "the air is so clean when everyone else leaves town."
When Iranians return to work in early April, the country will be facing a precarious situation domestically and on the international stage.
Less than three months before a presidential election that could change the complexion of Iran's domestic politics after eight years of the controversial leadership of President Mahmoud Ahmadinejad, a sense of uncertainty is pervasive.
"I am very afraid because last time I witnessed many bad things in this city," said Zahra, 40, a homemaker in Tehran, referring to the unrest that followed Ahmadinejad's disputed reelection in 2009. "I do not care who wins the election. I just want someone who can change this terrible situation."
But there are dim slivers of hope as well, especially over the possibility that Iran and the West might break their long-standing nuclear impasse. Although polls indicate that Iranians strongly support maintaining the country's nuclear program despite the heavy toll caused by sanctions, some believe it simply is not worth the price the country is paying.
"It's possible that there will be a deal on the nuclear issue after Ahmadinejad goes, and then we'll have a better life," said Abbas, the tobacco worker. "I think we must have nuclear facilities in this country, but we also need relations with the rest of the world."
Mohammad Hassan, 65, who teaches at a university in Tehran, said he also favors compromise.
"Our economy is now interwoven with sanctions, so if a new presidential team comes and wants to be appealing to the people, they have to make a deal with the devil, with the West, so our economy can breathe again and run on the right track," he said. "I am very hopeful that they will do it."
Mahboobeh, a 23-year-old office worker, was less sanguine.
"I do not see any use in the nuclear program for us, and so far it has only caused us problems," she said. "Our situation will not change at all next year. Why should it? I do not see any sign of it because everyday prices are going higher. I am not going to vote and don't care who wins, because there is not going to be any change whatsoever."
Washington Post