March 14 Marks 8th Anniversary of the Cedar Revolution
This Sunday , March 14 alliance marked the eight anniversary of Lebanon's Cedar Revolution, when the Lebanese people took to the streets to peacefully demonstrate and demand a sovereign and democratic country free from foreign interference and to call for the truth behind the assassination of former Prime Minister Rafik Hariri and 22 others.
The rally was held at Beirut International Exhibition and Leisure Center (BIEL), amid the absence of its top leaders over security fears.
The Lebanese people continue to face challenges as they work to ensure a stable, sovereign, and independent state that unifies all Lebanese.
"We will continue our struggle to achieve the real independence of Lebanon," former Lebanese PM and current Future Movement parliamentary bloc MP Fouad Siniora, vowed in a brief speech at the rally .
"The day of March 14 stands for the idea of Lebanon and the meaning of being Lebanese," said journalist Ali Hamadeh in his speech , adding:
"We gather here today to say, in the name of the martyrs and all the Lebanese, that March 14 is the protector of the country, its people and its future."
Hamadeh also saluted the "the revolution of the Syrian people."
Fourteen March 14 activists delivered speeches .
"Lebanon does not bear divisions and we need to work hand in hand in order to build it," activist Elie Fawaz said.
"It is difficult for Hezbollah to hand over its arms, but it is not impossible," he stressed.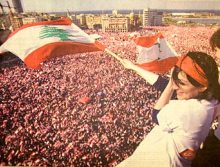 March 14 activist Magaly al-Hajj said "we have the right to live in a state that is not controlled by the army of another mini state."
She also admitted that "March 14 needs change" and that the "entire scene" in Lebanon needs change.
"The loyalists of Syria and (Syrian President) Bashar Assad will not defeat us because there is justice in this universe," she stressed.
Activist Mohammed Handoush, who hails from northern Lebanon, said "martyrs build a nation, but compromises destroy it."
"Where is security in our country while prison guards are being taken hostage at the hand of inmates," said acitivist Randa Maarabouni.
Referring to ex-PM Rafik Hariri, activist Nadine Kahil said: "They feared the giant who built Lebanon, so they assassinated him."
March 14 activist Karim al-Rifai said "Yes to the Lebanese army that challenged the decision of the (Syrian) hegemony authority in 2005, foiled the Syrian plot in Nahr al-Bared and confronted Israel in Adaisseh" in southern Lebanon.
"No to any armed militias, whether Shiite or Sunni," Rifai added.
"We tell all the militias that are threatening Lebanon that we will not allow them to maintain their presence and we won't allow the return of the civil war," he went on to say.
Rifai called on the Lebanese army to protect citizens "inside the country and in border areas and to protect Akkar's residents from the crimes of the Syrian regime."
"We will not arm ourselves and we will not allow the Free (Syrian) Army or al-Nusra Front to defend us against any Lebanese party," Rifai reassured.
"We tell the Assad regime and the Iranian regime and we tell March 8 and March 14 that we have returned for the sake of Lebanon," he added.
March 14 activist Cherine Abdullah reminisced that "eight years have passed and many parties tried to divide us and to drive a wedge between us."
But she stressed that "nothing can impede the idea of March 14" if its components maintain their "strength and solidarity."
Activist George Droubi, who hails from Tripoli's el-Mina area, said March 14 "diagnosed Lebanon's disease and found the cure which is the civil state."
"We do not fear you or your weapons and assassinations, we rather fear for our country, and March 14 is a lifestyle and we are its guardians," said activist Carol Maalouf.
Absence of March 14 leaders
Lebanon has been witnessing for several months a wave of assassinations starting with the attempted assassination of Lebanese Forces leader Samir Geagea last April, the attempted assassination of MP Boutros Harb, the assassination of Lebanon Internal Security intelligence chief and several threats of assassinations against several figures including March 14 MP Marwan Hamadeh and Mufti Shaar of Tripoli.
Hezbollah has been accused of being behind some of these threats. Hezbollah has refused so far to hand over its member Mahmoud al-Hayek , who was indicted in the attempted assassination of MP Harb to the judicial authorities just like it refused to hand over the four killers of former PM Rafik Hariri ( Saad's father) , who was assassinated in downtown Beirut on February 14, 2005.
Former PM Saad Hariri announced last week that he will not return to Lebanon anytime soon because the decision to assassinate him has already been made , political sources said last Monday.
Naharnet