Red Cross appeals for halting attacks against Syrian civilans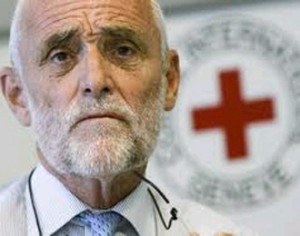 The International Committee of the Red Cross (ICRC) appealed to foreign powers on Friday to press combatants in Syria to halt attacks on civilians and aid workers, saying all sides were violating the Geneva Conventions.
"Many atrocities against civilians have been reported or witnessed over the past two years and we have also seen indiscriminate attacks against civilians and the targeting of health-care personnel and aid workers," said Robert Mardini, head of ICRC operations for the Near and Middle East.
States should "play a positive role by exerting stronger influence on those involved to secure greater respect for international humanitarian law", Mardini said.
"These ongoing violations of international humanitarian law and of basic humanitarian principles by all sides must stop," he declared, saying no end to civilian suffering was in sight.
The ICRC's appeal on the second anniversary of the uprising against President Bashar al-Assad was the first time the independent agency had asked outside powers to help create conditions in which aid could reach needy civilians promptly.
Mardini said that hundreds of people were dying every day in Syria and tens of thousands were missing or detained. He again appealed for access to government-held prisoners.
An ICRC program to visit such detainees to monitor their conditions and prevent mistreatment, has stalled since May after just two visits to central prisons in Damascus and Aleppo.
The Geneva Conventions lay down the rules of armed conflict, including treatment of civilians and prisoners of war.
ICRC aid workers, working across the front-lines since the conflict erupted, have delivered aid to some of the hardest-hit areas controlled by both sides, the agency said.
The ICRC issued its message hours before France and Britain were expected to urge European Union governments to lift an embargo on supplying weapons to Syrian rebels.
Assad's forces still control central Damascus and large parts of the cities of Homs, Hama and Aleppo to the north. But they have lost swathes of territory in the rural north and most of the eastern towns and cities along the Euphrates River.
United Nations investigators said on Monday that the Syrian government has stepped up indiscriminate, heavy bombardments of cities while rebels are executing prisoners condemned in their own makeshift courts without due process.
Some 4 million people in Syria need assistance, including an estimated 2.5 million displaced from their homes and staying mainly in squalid public shelters, the United Nations says.
The World Food Programme said on Friday it faced "severe challenges" in expanding its emergency operation, which distributed rations to 1.7 million people in Syria in February.
The U.N. agency aims to reach 2.5 million in Syria by April as well as one million refugees in neighboring countries.
Reuters