Syrian regime air force bombs Damascus province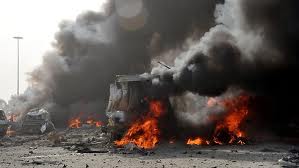 Syria's air force launched new air strikes on Friday on rebel bastions near Damascus, as clashes raged in flashpoints across the country two years after the anti-regime uprising began, a watchdog said.
Regime forces resumed an assault on parts of third city Homs, pounding the Old City and Khaldiyeh rebel enclaves in the city centre and the embattled Baba Amr district in the southwest, the Syrian Observatory for Human Rights said.
At least 82 people were killed on Friday, 40 of them civilians, according to a preliminary toll released by the Britain-based watchdog, which relies on a broad network of activists, doctors and lawyers for its information.
It said that among the dead were at least 23 civilians and seven rebels killed in Damascus province, a flashpoint for violence. Tanks also bombarded the Assali and Qaboon neighbourhoods in the capital itself.
In Homs, the army "made a new attempt to take back control" of rebel enclaves, more than nine months into a suffocating siege on insurgent-held neighbourhoods, said the Observatory.
The army also shelled Baba Amr, which rebels infiltrated in a counter-offensive last week, it added.
Although activists have dubbed Homs "the capital of the revolution," some 80 percent of the city is now under regime control.
In Homs province, warplanes targeted the city of Houla, killing at least six people, among them one child, said the Observatory.
Friday's violence came a day after at least 178 people were killed across the country — 62 civilians, 66 rebels and 50 soldiers, it added.
The United Nations says the conflict has left more than 70,000 people dead.
The conflict broke out after the regime unleashed a brutal crackdown on a peaceful uprising that began on March 15, 2011 and later morphed into a bloody insurgency.
The International Committee of the Red Cross (ICRC) appealed to foreign powers on Friday to press combatants in Syria to halt attacks on civilians and aid workers.
"Many atrocities against civilians have been reported or witnessed over the past two years and we have also seen indiscriminate attacks against civilians and the targeting of health-care personnel and aid workers," said Robert Mardini, head of ICRC operations for the Near and Middle East.
NOW