Leaders around the world see hope in Pope Francis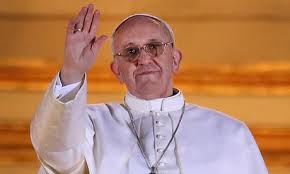 Pope Francis received a flood of goodwill messages from around the world Thursday with non-Catholics hoping his papacy will usher in better ties with the Vatican.
China, which has long had strained relations with the Vatican in a dispute about authority over Catholics in the country, said it hoped the new leader of the Church would have a more open attitude.
"We hope that under the leadership of the new Pope the Vatican will adopt a practical and flexible attitude and create conditions for the improvement of China-Vatican relations," foreign ministry spokeswoman Hua Chunying said.
Christian Orthodox Russia, which has also had difficult ties with the Catholic Church, sounded more optimistic.
The Russian Orthodox Church "counts on relations between the Orthodox and Catholic Churches developing in a positive way," Patriarch Kirill's office said.
President Vladimir Putin said he was "convinced that constructive cooperation between Russia and the Vatican will develop further on the basis of the Christian values that we share."
Sunni Islam's highest seat of learning, Al-Azhar, congratulated the world's Catholics but said it wants "better relations" with the Vatican under Francis, the first Pope from Latin America and the first from the Jesuit order.
Mahmud Azab, adviser for inter-faith affairs to Al-Azhar imam Ahmed al-Tayyeb, told AFP that Al-Azhar "will resume the dialogue with the Vatican which was suspended in early 2011," as soon as a new policy emerges.
Also Thursday, the Syrian National Council opposition group called on Pope Francis to "make a special gesture" for Syria where more than 70,000 people have been killed in two years of conflict.
Other leaders and Catholics around the world, while hailing the new Pope, urged Francis to work for religious reconciliation and peace.
Philippine President Benigno Aquino, who leads Asia's biggest Catholic country but who has challenged the Church over its opposition to contraception, offered warm praise for the 76-year-old new pontiff.
Aquino said Francis raised hopes of "renewal" in the Catholic Church, citing his status as the first Pope from outside Europe since Saint Gregory III, born in present-day Syria and Pope between 731 and 741.
US President Barack Obama and Argentine leader Cristina Kirchner on Wednesday led congratulations from across the Americas, where Roman Catholics rejoiced that one of their own will lead the church's 1.2-billion-strong flock.
In Buenos Aires, the faithful attending mass at the capital's main cathedral on the historic Plaza de Mayo erupted in cheers and gave a standing ovation upon learning from Vatican City of Bergoglio's elevation.
"As the first Pope from the Americas, his selection… speaks to the strength and vitality of a region that is increasingly shaping our world," Obama said in a statement, hailing Pope Francis as a "champion of the poor".
"Just as I appreciated our work with Pope Benedict XVI, I look forward to working with His Holiness to advance peace, security and dignity for our fellow human beings, regardless of their faith," he said.
Kirchner, who is Catholic but does not have a warm personal relationship with the new pontiff, wished him a "fruitful pastoral mission".
She noted that he had "tremendous responsibility on his shoulders, seeking justice, equality, brotherhood, and peace among mankind".
UN Secretary General Ban Ki-Moon said the United Nations and the Roman Catholic Church shared the "common goals" of promoting peace, social justice and human rights, and the eradication of poverty and hunger.
In Latin America, the leaders of Brazil, Colombia, Ecuador, Mexico joined the clergy in hailing Cardinal Jorge Mario Bergoglio, who was elected after five rounds of voting in the Vatican – one more than when predecessor Benedict XVI was chosen in 2005.
In Africa, where the number of Catholics is steadily growing, the president of the Southern African Catholic Bishops Conference said that, while some had hoped for a younger pontiff, all expect "great things" from Pope Francis.
"The symbolism of choosing a Pope from Latin America delights and touches us, most particularly in developing countries," said Archbishop Stephen Breslin.
The new Pope, however, will face renewed pressure to better handle sex abuse scandals involving paedophile priests, and avoid cover-ups by senior clergymen.
The Survivors Network of Those Abused by Priests warned that Jesuits have a "troubled track record on children's safety" and urged Pope Francis to seize an "enormous opportunity and duty to help prevent heinous assaults against kids".
Channel News Asia