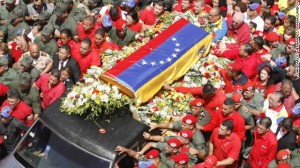 Venezuelans will vote April 14 to choose a successor to Hugo Chavez, the elections commission announced Saturday as increasingly strident political rhetoric begins to roil this polarized country.
The constitution mandated the election be held within 30 days of Chavez's March 5 death, but the date picked falls outside that period. Critics of the socialist government already complained that officials violated the constitution by swearing in Vice President Nicolas Maduro as acting leader Friday night.
Some people have speculated Venezuela will not be ready to organize the vote in time, but elections council chief Tibisay Lucena said the country's electronic voting system was fully prepared.
Lucena announced the date on state television, appearing in a small inset as the main picture showed people filing past Chavez's coffin at the military academy in Caracas, where his body has lain in state since Wednesday.
Chavez's boisterous, passionate state funeral Friday often felt like a political rally for his anointed successor, Maduro, who eulogized him by pledging eternal loyalty and vowing Chavez's movement will never be defeated. Maduro is expected to become the candidate of Chavez's socialist party.
Ramon Guillermo Aveledo, coordinator of the opposition coalition, immediately followed the election announcement by offering his bloc's presidential candidacy to Henrique Capriles, the governor of Miranda state who lost to Chavez in October.
Mariana Bacalao, a professor of public opinion at the Universidad Central de Venezuela, said the passion on both sides just hours after Chavez's funeral raised fear of far worse to come in the weeks ahead.
"You can expect during the campaign that these rages will be unleashed," she said.
In his speech after his swearing-in, Maduro took shots at the United States, the media, international capitalism and domestic opponents he often depicted as treacherous. He claimed the allegiance of Venezuela's army, referring to them as the "armed forces of Chavez," despite the constitution barring the military from taking sides in politics.
The opposition has denounced the transition as an unconstitutional power grab, and Capriles said his side was studying its strategy for the vote, which will be held in the shadow of the government's efforts to immortalize Chavez. Since his death, the former paratrooper has been compared to Jesus Christ and early 19th century Venezuelan liberator Simon Bolivar, and the government announced that his body would be embalmed and put on eternal display.
Chavez supporter Eloy Escobar, a 51-year-old who works at a toy distributor, said he remained loyal to Chavez — and Maduro.
"I think it's great, and with this, I return to the road that Chavez wanted," Escobar said.
Elvira Orozco, a 31-year-old business owner, said she planned to sit out the vote to protest Maduro's swearing-in.
"What they want is to say that here there's a democracy, but here they violate the constitution and there's no authority who says anything," Orozco said.
Observers voiced mounting concern about the deep political divide gripping Venezuela, with half of it in a near frenzy of adulation and the other feeling targeted.
"Everything that happened yesterday (with the funeral and Maduro's speech) are outward signs of a fascistic aesthetic, complete with armbands," said Vicente Gonzalez de la Vega, a professor of law at Caracas' Universidad Metropolitana. "It is the cult of the adored leader, an escape from reality … They are trying to impose on the rest of the country a new, pagan religion."
He said the ruling party was playing with fire with its strong nationalistic rhetoric and the implication that a vote against Maduro was somehow subversive.
Capriles, too, has used emotionally charged language in his public comments. On Friday he denounced Maduro as a shameless liar who had not been elected by the people, and condescendingly referred to him as "boy."
Opposition figures have said they are concerned about the election's fairness, particularly given the public vows of allegiance to Chavez from senior military officials. Capriles lost to Chavez in Oct. 7 elections, but he garnered 45 percent of the vote, which was the most anyone ever won against the late president.
A boycott of 2005 legislative elections was widely seen as disastrous for the opposition, letting Chavez's supporters win all 167 seats and allowing him to govern unimpeded by any legislative rivals.
In the streets Saturday, Venezuelans said they expected the opposition to take part in the poll, which will decide the president for the next six years.
"They will be present, yes, they will take part in the election," said Benito Villalba, a 62-year-old retiree who said he would vote for Maduro.
Others said they were nervous about what the election could bring.
"I am afraid something bad will happen, that violence will be unleashed," said Greymar Salazar, a 29-year old house wife and opposition supporter. "There are many people who are unhappy with what happened with (the swearing-in of) Maduro."
CBS News