A Hug in Venezuela gets Iranian president in trouble at home
Iranian President Mahmud Ahmadinejad is in trouble for embracing the mother of Venezuelan President Hugo Chavez, who died last week following a battle with cancer.
Ahmadinejad has come under criticism over a picture that shows him holding the hands of Elena Frias, Chavez's mother, and comforting her during the March 8 funeral in Caracas.
In the controversial picture, posted on some Iranian news sites and widely shared on social media, Frias is seen leaning on Ahmadinejad while they hold hands and appear to be crying.
According to Islamic rules applied in Iran, unrelated men and women are not allowed to touch. Iranian officials and diplomats often bow instead of shaking hands with female foreign officials.
Several conservative lawmakers have criticized Ahmadinejad over the picture and said that he violated Islamic norms.
No Reaction From Ahmadinejad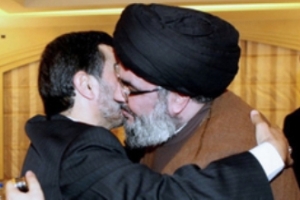 Lawmaker Mohammad Mehdi Pourfatemi said that senior clerics should condemn Ahmadinejad's behavior and not allow him to do whatever "anti-Islamic" moves he likes.
Another lawmaker, Mohammad Dehghan, did not name the Iranian president but said that the behavior of "a senior executive government official" had not been dignified.
Ahmadinejad has not publicly reacted to the criticism over the picture or for his comments saying that Chavez will be resurrected alongside Jesus and the Hidden Imam.
However, parliamentary deputy Hojatoleslam Mohammad Reza Mirtajedini, who traveled to Caracas with Ahmadinejad, denies that the president embraced Chavez's mother.
"They have altered the picture so that it is interpreted this way," he said. "There was no embracing."
He added that Ahmadinejad was trying not to hurt the feelings of Chavez's mother, who he said referred to Ahmadinejad as "her son."
'Not Appropriate'
Meanwhile, the condemnation of the condolence message Ahmadinejad issued following the death of Chavez continues.
In the message, which was posted on his website last week, Ahmadinejad said he was certain that Chavez "will return" along with Jesus Christ and Imam Mahdi, who according to Shi'ite beliefs has gone into hiding and will reappear one day to bring justice to the world.
Several clerics and lawmakers said that the terms Ahmadinejad used were "not appropriate."
Hard-line cleric Ahmad Khatami said in his sermons during Friday Prayers in Tehran that the president could have sent a diplomatic message without "getting into religious issues."
On March 9, Ayatollah Mohammad Yazdi, a member of the Assembly of Experts, advised Ahmadinejad to refrain from commenting on religious issues.
The latest round of criticism against Ahmadinejad comes amid a power struggle between the president and his powerful conservative opponents, who are aligned with Supreme Leader Ayatollah Ali Khamenei.
Ahmadinejad's final term in office ends in June.