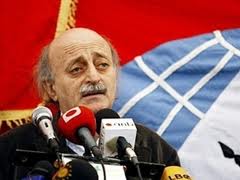 Progressive Socialist Party leader MP Walid Jumblatt said the Syrian people have the right to side with the devil,if they need to, except with Israel, against the regime of Syrian president Bashar al Assad.
"The Syrian people have the right to side with the devil — except with Israel — against the regime," said Jumblatt.
Jumblatt was responding to a question during an interview with Al-Akhbar newspaper published on Wednesday, whether the Free Syrian army should side with the rebel Al-Nusra Front, a jihadist group which the U.S. lists as a "terrorist organisation', in the Syrian conflict and also whether he supports Al-Nusra against the Syrian regime.
"I support Al-Nusra Front against the Syrian regime," Jumblat stressed
"I am acting to protect the (Syrian) Druze. The Alawites (Assad's community) will go back to their mountain, but the Druze live in a sea of Sunnis," the PSP leader said.
While most anti-Assad rebels — like the majority of Syria's population — are Sunni, the country's minorities have mostly stayed on the sidelines of the two-year-old conflict in Lebanon's neighbor.
Among them are Syria's Druze, many of whom live in the Jabal Al Arab in the south near Daraa, a majority Sunni area which has been recognized as the flashpoint of the Syrian revolution.
The Alawites, meanwhile, come from the mountains of northwest Syria, between north Lebanon and Turkey.
In an interview with BBC published on Wednesday the commander of the Free Syrian Army General Salim Idriss said that Al-Nusra Front constitutes less than 2 % of the rebel fighters.
Naharnet/ Agencies
This error message is only visible to WordPress admins
Error: No connected account.
Please go to the Instagram Feed settings page to connect an account.