Shehabi, ex-Syrian Army Chief of Staff died at 82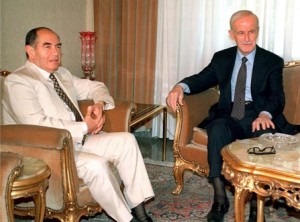 The Syrian National Television announced on Tuesday the death of retired General Hekmat Shehabi at an age of 82 years.
General Shehabi was the former Chief of Staff of the armed forces from 1974, to 1998. In !998 Former Syrian president Hafez Assad relieved him of his post as part of changes in the military's top brass to prepare for the succession of his son Bashar to the presidency in 2000.
Shehabi is a native of the northern province of Idlib which has mostly fallen into rebel hands since the uprising against Bashar Assad broke out in March 2011.
He taveled to the United States in the nineties to try and negotiate a peace treaty with Israel at Camp David when Bill Clinton was the US president.
He was reportedly involved the Lebanese file when Ghazi Kanaan was in charge of Lebanon during the Syrian tutelage.