Lebanon president praises the army, warns against chaos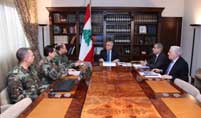 Lebanese President Michel Suleiman praised on Monday the role of the military and security forces, notably the army, in preserving security and civil peace, and preventing strife at these difficult circumstances in the region." LBC reported on Monday
Suleiman urged all parties to "embrace" the armed forces and avoid targeting them "because it is in everyone's interest without exception to stand by the state and particularly its security agencies," he said in statement.
Suleiman warned that not a single party would enjoy political or security backing if the country ends up in chaos.
Suleiman, who headed a meeting during which an army delegation briefed him on the military assistance to Lebanon and the army's needs to allow it to implement its mission, praised the army and security forces efforts deployed during the municipal by-elections on Sunday.
Suleiman also met on Monday with Foreign Minister Adnan Mansour who briefed him on his last visit to Bahrain and who assured him that no measures will be taken against the Lebanese community ( in Bahrain) in reaction to the remarks made by Mp Michel Aoun.
Relations between Bahrain and Lebanon hit rock bottom last month when the Free Patriotic Movement leader criticized the international community for its stance on the unrest there.
But Suleiman , Prime Minister Najib Mikati and Mansour told the Arabian Gulf kingdom to ignore Aoun's remarks since they do not represent lebanon's stance .