Iran Insists Assad Will Stay Until 2014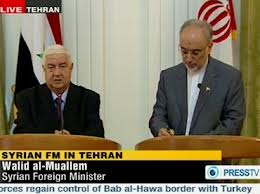 Remember Syria? That country where about 70,000 people have died and 2.5 million people were displaced from their homes — and from which approximately 700,000 refugees have fled — after more than two years of fighting?
All of that is still happening. And despite the predictions and hopes of various diplomats and journalists, if Iran has its way, Syrian President Bashar al-Assad will be up for re-election in 2014.
Speaking to reporters on Saturday, Iran's foreign minister, Ali Akbar Salehi, assured the public that Assad will remain in power until 2014, when Syria is scheduled to have new elections.
"In the next election, President Assad, like others, will take part, and the Syrian people will elect whomever they want," Salehi said at a press conference with Syria Foreign Minister Walid al-Muallem, according to Al-Jazeera. "The official position of Iran is that … Assad will remain the legitimate president until the next … election."
Iran has been a supporter of the Assad regime since the conflict began in 2011 and has been steadily supplying it with arms and fighters, although Tehran has denied these allegations.
Some reports have indicated that Iraqi soldiers may also be fighting on Assad's side: On Saturday Al-Arabiya said that several Iraqi snipers had taken up positions on the Syria-Iraq border, and that Iraqi units were firing shells on rebel Free Syrian Army units.
Salehi said that Iran would support talks between the Assad government and the opposition, saying, "We believe that the crisis has no military solution and only a Syrian political one."
However, on a somewhat contradictory note, Salehi also said that Assad had "no choice" but to continue to engage the Free Syrian Army in armed conflict.
"Iran firstly wants stop to the bloodshed, but the Syrian government has no choice but to fight against the terrorists, and we cannot ask the Syrian government not to do so and leave them alone," he said.
At the same press conference, Syria's al-Muallem told reporters that he condemned the United States' new $60 million pledge of non-lethal aid to the rebels.
"I do not understand how the United States can give support to groups that kill the Syrian people," he said. "This is nothing but a double-standard policy … one who seeks a political solution does not punish the Syrian people."
A report from the New York Times on Wednesday claimed that the U.S. will supply not only medical aid, food and vehicles, as it states publicly, but it will also provide training at a base "in the region." The training mission is, in fact, already underway.
U.S. Secretary of State John Kerry was in Ankara, Turkey, on Friday to meet with Turkey Prime Minister Recep Tayyip Erdoğan to discuss the situation to Turkey's south.
Turkey suffered damage and deaths from errant Syrian shells that flew across its border from Syria. The deaths caused NATO to send the country Patriot missiles to defend itself against future missile strikes.
In a press conference with Turkish Foreign Minister Ahmet Davutoglu on Friday, Kerry said that the Assad regime needs to "make a different set of choices."
"Minister Davutoglu and I, along with our partners, believe that there is no legitimacy in a regime that commits atrocities against its own people," Kerry said.
IBT