Venezuela's Chavez 'fighting for his life'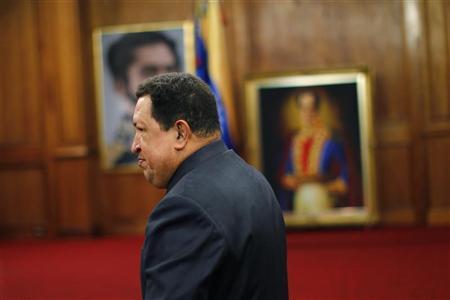 The official government line on Hugo Chavez' health has taken on a darker tone as political allies and opponents squabble over the handling of the bad news.
The Venezuelan president is "fighting for his life," the country's vice president said late Friday.
Chavez began chemotherapy after his fourth cancer surgery in Cuba in December, Vice President Nicolas Maduro revealed for the first time, and is continuing the "intense" treatment at a military hospital in Caracas.
Supporters attended a Mass Friday in the chapel of the Military Hospital Carlos Arvelo in Caracas, where Chavez has undergone treatment, according to state news agency AVN.
They prayed for his full recovery and gazed upon photos of the president taken with his daughters taken on February 15.
They called out: "We love you Chavez; we love you," AVN reported.
The president, who announced his cancer diagnosis in 2011, spent more than two months in treatment in Cuba and has suffered respiratory insufficiency.
The government has never specified what kind of cancer Chavez has.
Citizens attended rallies in the capital Friday, either criticizing the government for not saying enough about the president's health or joining with the government in blasting the rumor mill surrounding the ailing Chavez.
At one rally, students wearing clothing patterned after the Venezuelan flag camped out under awnings to protest. One demonstrator displayed a complex labyrinth drawn on paper with the title "Where is Chavez?"
Another demanded to know if the president was still alive or not. He and others draped heavy chains around their necks and arms.
At a separate rally, Vice President Maduro told socialist supporters wearing red that some of the press was attacking Chavez with unfair rumors.
Foreign news outlets have carried unsourced reports indicating that his condition has plummeted much more than Maduro is letting on.
From his confirmed Twitter account, Chavez' opponent in the 2012 presidential election accused the vice president Friday of deception.
"We will see how they will explain to the nation in coming days all the lies that have been said about the President's situation," former presidential candidate Henrique Capriles Radonski tweeted.
The president's faltering health held Chavez in Cuba until late February, causing him to miss January 10 inauguration by well over a month.
While political opponents said that postponing the inauguration was unconstitutional, Venezuela's Supreme Court sided with Chavez's party, which argued that he did not need to be present at the swearing-in for his next term.
Instead of holding a traditional inauguration ceremony, throngs of supporters in Caracas swore an oath of loyalty in Chavez's absence. Many waved flags and carried photos of the president.
After several Latin American leaders were diagnosed with cancer, himself included, Chavez, ever the critic of Washington, wondered aloud if the United States was behind it.
CNN