Lebanon PM calls on the labor union to end the strike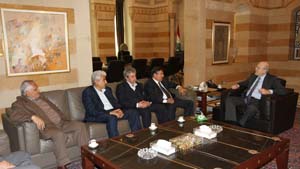 Lebanon's Prime Minister Najib Mikati called on the labor union to suspend their strike over the delay in approving new wage increases.
"I called on them, in light of the commitment I made to them to discuss the issue in the first cabinet meeting after March 21, to suspend their strikes," Mikati said following a meeting with a Union Coordination Committee delegation on Saturday.
"The issue is related to the economy in general, but the main concern should be a focus on the bigger picture. What is most important is the repercussion of the new ranks and salaries system on growth and the private sector."
The UCC has vowed to hold a general strike on Wednesday after public employees and school teachers voiced their anger in an ongoing strike that began on February 19 to demand that the government speed up its approval of salary raises.
Last September 2012, the Lebanese cabinet approved a new ranks and salaries system. However, a debate is ongoing regarding the appropriation of the funds needed to cover the wage increase for public employees.
According to financial analysts, the current cabinet has been unable to raise funds or attract foreign investments because it is dominated by the Iranian and Syrian backed Hezbollah militant group. Hezbollah has been accused of interfering in the internal affairs of Arab Gulf countries, which have been for decades the main source for tourism and foreign investments for lebanon.
Now