Is Hezbollah's No 2 Qassem dead or alive ?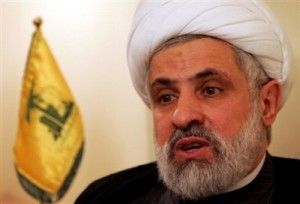 Syrian rebels claim they killed Hezbollah's number two Naim Qassem, deputy to Secretary General Sayyed Hassan Nasrallah when they bombed a convoy of high-ranking Syrian government officials near the Lebanon border on Feb. 26.
The Lebanese newspaper al-Mustaqbal reported that the Syrian rebels erected mines "on the Beirut-Damascus highway and [detonated them] as the convoy returned from a high-level security meeting in Lebanon."
The al-Mustaqbal did not report that Qassem was killed, only that he was injured. However, the Free Syria Army used its Twitter account to announce: "It has been confirmed… that Hezbollah's number two man died after [receiving] a serious injury."
Hezbollah chief on February 27 has even denied the reports suggesting his deputy was seriously injured in a convoy explosion and called the reports "lies."
Hezbollah sources who also denied the killing of Qassem stressed that some media outlets as well as social networks were recently trying to release false statements in an attempt to implicate Hezbollah in the Syrian crisis, according to a Russia Today report.
On Feb. 28 Qassem issued a statement meant to demonstrate that he was not injured in the purported attack. Qassem said Hezbollah had reassured the Christian minority that the Shi'ites do not plan to dominate Lebanon.
"We reassure them more than any other side in Lebanon because we are honest in our dealings," Qassem said.
According to analysts Qasssem may need to appear in public to end the rumors.