Syrian envoy denied being summoned by Lebanon FM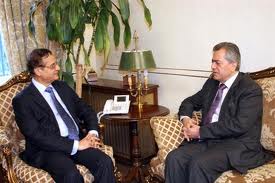 Syrian envoy to Lebanon Ali Abdel-Karim Ali denied he had been summoned by the Lebanese foreign minister over the recent border deaths, stressing that he had requested the meeting with Adnan Mansour as part of continued coordination between Damascus and Beirut.
He also stressed that he wanted to put the "Lebanese state in the picture of what Syria, its borders, its Army are being exposed to, something that both the Lebanese judiciary and media have proven."
His comment comes a week after Mansour was requested by Prime Minister Najib Mikati Sunday to protest to Syrian authorities over the recent shelling of northern border villages that killed a number of Lebanese nationals .
Asked to comment on the killing of Lebanese citizen by Syrian gunfire the envoy said after his talks with the Foreign Minister :
"Syria will continue to respond to sources of fire from across the border with Lebanon as a part of our standard procedure"
Ali added:
" Gunmen on the border represent a violation to both the sovereignty of Lebanon and Syria and what Syria and its military are doing is responding to sources of fire which can only be viewed as necessary to preserve Syria and its sovereignty."
"The minister and I focused on what Syria's borders and the domestic situation are exposed to in terms of violations by gunmen from different nationalities, whether those who take refuge in Lebanon or those with different nationalities," Ali said.
Asked about the possibility of building refugee camps inside Syria, Ali said this issue had never been brought up during the meeting, adding that Damascus was aiming to provide a safe environment for its citizens and secure their return.
"When it comes to meeting the demands of its citizens, Syria is the most loyal as compared to other places because Syrian citizens are facing abuse, incitements and humiliation in some of the countries they have taken refuge in which are sisterly and neighboring states," he said.
The current cabinet is dominated by Hezbollah which has been supporting the Syrian regime in its crackdown against the uprising . Mikati according to observers cannot fire Mansour for disobedience because he is a member of the Amal party which is headed by Speaker Nabih Berri a key ally of Hezbollah.
The uprising against Syrian President Bashar al-Assad is almost two years old. The flow of Syrian refugees is accelerating and the number in Lebanon has doubled in the last three months, to 320,000.
Beyond the security concerns, popular resentment is building as resources are stretched and jobs are being taken.
Lebanon, a country of only 4 million, now hosts a million Syrians in all, if self-supporting families and manual laborers are included.