Iran agrees to follow-up nuclear talks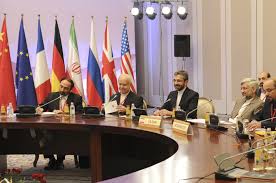 Iran  and six world powers concluded two days of  talks over the Iranian nuclear programme  on Wednesday with an agreement to hold follow-up technical discussions in Istanbul on March 18, and to reconvene again for a full meeting of diplomats on April 5.
Two days of talks in the Kazakh city of Almaty were held this week to gauge the Iranian response to a freshly revised offer from the six world powers regarding the future of the nuclear programme.
Iran's agreement to follow-up meetings  will be seen by diplomats and experts as a positive outcome. Many western diplomats believe there needs to be significant progress in the decade-long stand-off between Iran and world powers this year if a military confrontation is to be avoided in 2014.
Saeed Jaleeli, Iran's chief nuclear negotiator, said after the meeting that the talks had been "a positive step". He also said that a new offer put to Iran by world powers – who go by the name P5 plus 1 – was "more realistic" than previous plans.
"Certain positions of the P5+1 group were more positive compared to those expressed in the past," he said.
However, experts will be quick to note that previous meetings between Iran and world powers have ended in pledges to make progress in follow-on talks, only for such hopes to be frustrated at a later date.
The Almaty talks have also taken place amid signs that Iran is pressing ahead with technical improvements to its nuclear programme that are worrying western governments.
These technical improvements – which include the installation of a significant number of new centrifuge spinning machines at its enrichment site at Natanz – may improve its chances of completing a bomb at speed if that is what it later decides to do.
At this week's talks, world powers presented Iran with a newly revised offer which would see sanctions eased on trade in gold and other precious metals if Tehran were to take key steps to shut down its programme.
The six world powers at the talks – the US, UK, France, Germany, Russia and China – are asking Iran to take three steps that will build confidence that it is not seeking to build a bomb.
These steps are to stop production of more highly enriched uranium at the 20 per cent concentration; ship its current stockpile of 20 per cent uranium out of the country so it cannot be converted to weapons-grade fuel; and shut its heavily protected second uranium enrichment plant at Fordow.
The impact of sanctions on Iran was further demonstrated on Wednesday when the government of Mahmoud Ahmadi-Nejad presented the budget to parliament for next financial year, which starts on March 21.
Oil revenues are projected to be 40 per cent lower than the current year's budget, in what is Iran's first official calculation of the impact of EU oil sanctions since last summer on the country's top source of hard currency income.
It was not yet clear how the government was going to compensate for the decline in income. Despite the dwindling petrodollars, the 7,300tn rial ($297.6bn) budget, was expansionary. It was up 22 per cent on this year's budget, as the government forecast that the country could increase its income from other sources, including tax.
The government, also predicted that the rest of its oil could be sold at $95 per barrel, but the parity rate of the rial against US dollar remained vague. Domestic media, however, speculated that the dollar rate in the budget was far higher than the official rate (12,260) and probably more than 20,000 rials.
Iran's parliament is due to approve the budget by mid-March.
Financial Times