Hezbollah chief refutes rumors about his health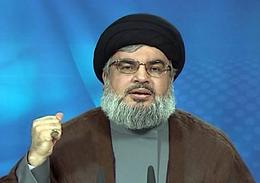 Hezbollah Secretary General Sayyed Hassan Nasrallah made another television appearance on Al Manar TV. This time to refute the rumors about his health claiming the rumors are part of 'media war waged against Hezbollah.
" The rumors spread in the previous days made me hold an urgent media appearance to show you that I am in good health." He said in his speech which was riddled with coughs
"There is a media campaign against Hezbollah." He added.
Nasrallah said that he "Didn't wish to interrupt the viewers," and he only came on the air "To refute the rumors that were spread over the past two days, that have left a negative impression.
"I'm here, in the flesh, to tell you that these rumors are baseless," he asserted.
He also denied the reports suggesting his deputy, Naim Qassem, was seriously injured in a convoy explosion in Syria. Nasrallah called the reports "lies."
He then thanked those praying for him, saying he was grateful for their support.
His comments come after Radio Sawt Beirut International claimed on Monday, citing unidentified sources, that the Hezbollah chief was transferred on Sunday to Iran "aboard an Iranian presidential plane," which left from the Beirut-Rafic Hariri International Airport.
Turkish Anadolu news agency also reported on Tuesday that Nasrallah suffered an adverse health condition several days ago and was transferred to a private hospital in Beirut's southern suburb and later to Iran for treatment, .
"Nasrallah left Lebanon to Tehran via Rafik Hariri International Airport," sources close to Hezbollah told Anadolu, without specifying the date of the leader's ailing.
Yesterday also Voice of Lebanon radio station reported that Nasrallah had been flown to Tehran for emergency medical treatment for severe cancer-related complications.
A Jordanian news website reported Monday that Nasrallah may have been injured during the shelling of Hezbollah positions this week by the Free Syrian Army.
One observer who watched Nasrallah told Ya Libnan. "Of course we cannot tell where he spoke from . He could be anywhere in Iran or Lebanon and since this was transmitted  via video link we cannot tell the location. He added " Nasrallah nevertheless looked frail and this could be the reason behind the so called rumors."
On the recent reports about being wounded in clashes with the Free Syrian army, Nasrallah said :
"There is a media uproar, including a report claiming that the Free Syrian Army had shelled Hezbollah positions and that I was wounded in Hermel. There is also a report claiming that Sheikh Qassem was wounded in Jdeidet Yabous. These are mere lies of course."
On reports that Hezbollah is seeking to postpone the elections he said:
"Our popularity is fine and the situation in Syria has not changed, so why would we seek to postpone elections? Those seeking postponement are the ones waiting for the situations to change in Syria, Lebanon and the region."
He added:
"There are foreign and local forces that are seeking postponement, but no one has the courage to say that openly and they want to blame it on someone and they have picked Hizbullah. These are lies and false accusations and it is in our interest that elections be held on time under a law other than the 1960 law.
He said his first preference is for 1 electoral district for the whole country and proportional representation