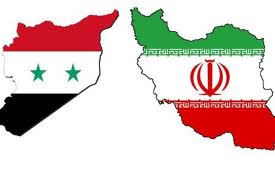 The killing last week of a senior Iranian Revolutionary Guards Corps commander near the Lebanon-Syria border has rekindled speculation about Iran's activities in Syria, particularly its ties to the militia groups fighting alongside the Syrian government. With rebel forces having gained control of vast swaths of northern and eastern Syria in recent weeks, and the U.N. envoy Lakhdar Brahimi warning that Syria is being transformed into "a playground for competing regional forces and governments," the precise nature of Iran's role in the conflict is being held to more scrutiny than perhaps any moment since the conflict began 22 months ago.
Though Western and Iranian officials will not discuss Syria when they sit down for talks on Iran's nuclear program in Kazakhstan on Tuesday, Iran's ability to shape that conflict will hang over the negotiations, strengthening both Tehran's perception of its position and the West's resolve to deny Iran meaningful sanctions relief.
Iran says it is seeking a cease-fire in Syria and has offered its own proposal to end hostilities and bring about a negotiated end to the conflict, with the ultimate aim of holding a national referendum on how the country should be governed. Iranian officials say Tehran's interests lie in restoring stability, not sowing further chaos. "For us, the worst-case scenario is civil war and the fracture of Syria, and we'll do everything we can to prevent that," Hossein Sheikholeslam, Iran's former ambassador to Syria and foreign policy adviser to the head of parliament, told TIME.
But Washington blames Iran for prolonging the country's bloody civil war, alleging that it is propping up the government of President Bashar Assad with a steady supply of weapons and cash. American officials say Tehran is also busy on the ground cultivating a network of proxies, in coordination with its ally Hizballah, that can advance its interests should the Assad regime eventually fall. U.S. officials have linked Tehran with the proregime militia Jaysh al-Sha'bi, which Washington designated as a terrorist group in December. David Cohen, under secretary for terrorism and financial intelligence at the U.S. Treasury Department, told the Washington Post earlier this month that "Jaysh is essentially an Iran-Hizballah joint venture."
Iran dismisses these allegations and accuses Washington and its Arab allies, in turn, of providing munitions to the Syrian opposition, dragging out a bloody conflict that lacks sufficient domestic support to topple Assad on its own strength. "The West is sending in the explosives that end up in car bombs in rush-hour traffic," says Sheikholeslam, who denies that Iran has modeled Jaysh al-Sha'bi on its Basij militia. "So we have a Basij in Iran, others learn from us."
The conflicting narratives over Iran's presence in Syria were amplified last week by the killing of the Revolutionary Guards commander, General Hassan Shateri, and the various roles attributed to him after his death. Iranian state media described him as the overseer of Iranian-financed reconstruction of the Hizballah heartland in southern Lebanon, damaged heavily during the 2006 war with Israel. The country's political and military elite converged on the commander's funeral in Tehran, and in footage posted on the Raja News website, a cleric described Shateri "as no less than Imad Mughniyah," the shadowy Hizballah leader credited with the deaths of hundreds of Americans and Israelis in the 1980s and beyond.
The reference to Mughniyah, probably the past century's most notorious terrorist after Osama bin Laden, did little to bolster Tehran's argument that Shateri was involved in quiet reconstruction activities. But many of those who spoke at the funeral, amid much weeping, spoke in detail of Shateri's work. They said Christians and Muslims in southern Lebanon knew him as "Hajj Hassan" and respected his efforts to rebuild their leveled villages, as well as parks named after the Islamic Republic. Sheikholeslam, the parliamentary adviser, said Shateri devoted himself to rebuilding southern Beirut with a local's passion. "If there was, before the war, two buildings which faced one another, and families could talk through their windows while they cooked lunch, we would try to rebuild in the same manner those families wanted."
So what was General Shateri's role in Lebanon and Syria: A shadowy figure like Mughniyah, plotting spectacular attacks to thwart America's design, or an engineer rebuilding kitchens so housewives could chat while cooking? Iranian officials are coy on this question, varying their rhetoric sometimes by the day. The head of the Revolutionary Guards acknowledged in September that Iran had military forces on the ground in Syria as military advisers, and earlier this month Mehdi Taeb, an official charged with defending Iran against what is euphemistically called "soft war," called Syria a province of Iran, and said, "if we lose Syria, we cannot keep Tehran."
But such pronouncements, some analysts say, are expedient for Iran as well, projecting the sense that Tehran is essential to any solution. As Farideh Farhi, a scholar and Iran expert at the University of Hawaii, puts it: "After all, if your aspiration is to sit on the table around which decisions about the region are made, then boasting or at least not denying your power and influence, [this] may be deemed as not a particularly bad game to play."
The political establishment in Tehran, while broadly in agreement on Iran's strategic alliance with Syria, also varies in its stance on Assad. Many Iranian officials are reluctant to criticize the Syrian President, but others are more frank about his leadership and how Iran's support for him fits into the political dynamic of the region. "Yes, of course Bashar Assad is a dictator, there's no doubt left about this," Ahmed Bakhshayesh, a member of the parliament's Security and Foreign Policy Commission, told TIME. "What bothers us is that the countries opposing Assad have double standards. They say human rights are trampled in Syria, but do the Kings of Saudi Arabia and Bahrain evenget what human rights are?"
The battle of perceptions over Iran's involvement in Syria, waged by both Washington and Tehran, also reflects the wider animosity between Iran and the U.S. and their inability to talk. This stalemate is felt everywhere from the stalled nuclear negotiations to Iran's fraught relationship with America's allies in the region, primarily Saudi Arabia and Bahrain. Washington, says Farhi, elevates Iran's role in Syria as cover for its own ambivalent Syria policy, too timid to forcefully dislodge Assad and yet loath to transition him out of power through a political process that would involve Iran. Says Farhi, "If indeed Tehran is such a key player in Syria, then wouldn't it make sense to engage with it in order to find a solution to the quagmire?"
The view from Tehran, which has recently signaled its own unwillingness to deal with the U.S., remains calculating. Iran has long seen itself as the natural hegemony in the region and has pitched its ambitions accordingly. Says Sheikholeslam: "Weren't the missiles that stopped the Israeli assault on Gaza not brought about by our support? Iran's role in the region is increasing everywhere, and it's natural that it should increase in Syria as well, though that doesn't mean through interference in Syria's affairs."
While American officials speak mainly of Iran's hidden hand, rarely discussing the broader strategic dynamic at play in the conflict or invoking the interests of allies like Saudi Arabia and Qatar, Iran is candid about how it sees the stakes. "We live in the region, and we understand the balance of power," says the MP Bakhshayesh. "There are two fronts: one comprised of Saudi Arabia, the United Arab Emirates and the other [Gulf] kingdoms; and the other of Iran, Hizballah and Syria. The first front wants to weaken the second, and Bashar Assad is taking the stick for this."
Time