Miqati Asks FM to File Complaint over Syrian shelling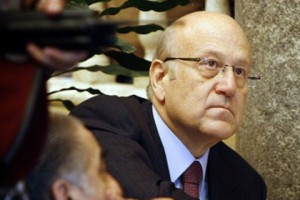 Lebanese Prime Minister Najib Mikati condemned on Sunday the cross-border shelling from Syria into northern Lebanon border towns.
"We denounce the death of Lebanese citizens in incidents they have nothing to do with and we call on the relevant Syrian authorities to take the appropriate measures to prevent the recurrence of such incidents," said Mikati in a statement issued by his office.
"I have asked Foreign Minister (Adnan Mansour) to officially inform Syrian authorities of our rejection of this behavior and our demand that its recurrence be prevented," Mikati added.
On Sunday also Lebanese President Michel Suleiman urged Syria's warring parties to limit their clashes to the Syrian territories only and refrain from shelling Lebanon after two Lebanese were killed on the northern border with Syria.
" I call on the Syrians to refrain from opening fire and shelling Lebanese territory," NationalNews Agency quoted Suleiman as saying in a statement.
Suleiman underscored the importance of remaining impartial on any regional affairs, especially concerning Syria.
Suleiman's comments came after two Lebanese men, Mohammad Hussein Ezzo and Hussein Ismail, were killed on Saturday by gunfire originating from Syrian territory.
Progressive Socialist Party leader MP Walid Jumblatt said on Sunday that "the Lebanese government has failed to implement its dissociation policy"
One analyst whose name has been withheld for security reasons told Ya Libnan:
There is a credibility issue here for the Lebanese PM.
– His problem is the fact that the current government is dominated by the Iranian and Syrian backed Hezbollah militant group.
– Mikati was Hezbollah's candidiate for the premiership and the cabinet was reportedly made in Syria .
– Mansour is a member of the Amal Movement , which is closely allied with Hezbollah.
– Mansour has been accused by the opposition of acting on orders from the Syrian regime of president Bashar al Assad.
How much weight do you think the complaint will carry ????"
Hezbollah according to Jumblatt is fighting in Syria on orders from Iran
"Hezbollah is fighting inside Syria in support of the Syrian regime on orders from the Islamic Republic of Iran," Jumblatt said in a statement on Sunday.