Suleiman urges Syrian rivals to leave Lebanon alone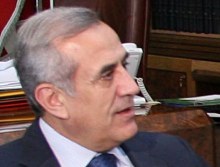 Lebanese President Michel Suleiman urged on Sunday Syria's warring parties to limit their clashes to the Syrian territories only and refrain from shelling Lebanon after two Lebanese were killed on the northern border with Syria.
" I call on the Syrians to refrain from opening fire and shelling Lebanese territory," National News Agency quoted Suleiman as saying in a statement.
Suleiman underscored the importance of remaining impartial on any regional affairs, especially concerning Syria.
The president also expressed his "regret" over the death of Lebanese citizens due to military activity taking place in neighboring Syria.
Suleiman's comments came after two Lebanese men, Mohammad Hussein Ezzo and Hussein Ismail, were killed on Saturday by gunfire originating from Syrian territory.
The statement said Suleiman held telephone conversations with several officials and asked security agencies to investigate the two deaths.
This incident led to clashes on the Lebanese-Syrian borders, with tension arising in the Wadi Khaled area. Mortar shells and machine guns were fired as violent clashes erupted on the borders between the Syrian army and armed men.
The Lebanese Armed Forces sent reinforcements to assist army units already deployed in the area.
Update: A man was killed at dawn Sunday by Syrian shells that landed on the town of al-Hishe in the Wadi Khaled area that borders Syria in northern Lebanon, National News Agency reported Sunday.
NNA identified the man as al-Hishe municipality member Ahmed Shehab. His brother Hani was injured.
Al-Hishe mayor Mohammed Dargham al-Ahmed said the town's residents are angry over the spread of gunmen.