Jumblatt: Hezbollah fighting in Syria on orders from Iran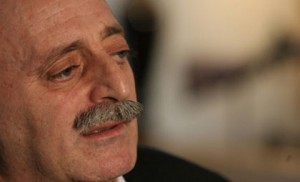 Progressive Socialist Party leader MP Walid Jumblatt said on Sunday that "Hezbollah is fighting inside Syria in support of the Syrian regime on orders from the Islamic Republic of Iran," adding that "the Lebanese government has failed to implement its dissociation policy prompting March 14 parties to fight alongside the people of Syria."
In an interview with Al Jazeera Jumblatt said that he has information indicating that Speaker Nabih Berri will not allow the adoption of the bill on the "Orthodox" electoral law, because it is divisive, adding that Berri is keen on reconciliation in Lebanon.
The controversial Orthodox Gathering law has been slammed as sectarian. According to the proposed law, each sect would elect its own lawmakers only and Lebanon would be turned into a single electorate under a proportional representation system.
The proposal has already been rejected by President Michel Suleiman and Prime Minister Najib Mikati. It has also been severely criticized by Hariri's Future Movement bloc, Jumblatt's National Struggle Front and March 14 opposition's independent Christian MPs.