Teachers' Union goes on strike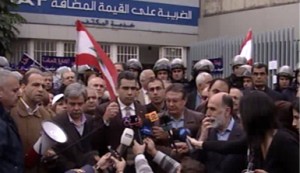 The Union Coordinating Committee (UCC) held a protest on Saturday outside the VAT building to protest the failure in referring the series of ranks and salaries to the Parliament.
President of the Schools Teachers Union Nehme Mahfoud announced that all schools will be closed as of Monday morning and pointed out that the strike will not end before referring the pay scale to the Parliament.
The Head of the Secondary Teachers Union Hanna Gharib called on Prime Minister Najib Mikati to speed up issues pertaining to this file and asked minister of Transportation and Public Works Ghazi al-Aridi to take the appropriate measures in regards to corruption.
The UCC is a coalition of private and public school teachers and public sector employees.
The committee warned the cabinet against delaying the issue, rejecting any attempts to slap taxes on citizens or violating the rights of employees.
LBC