Aoun: Jumblatt is mourning his defeat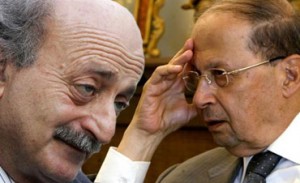 In an interview on Hezbollah's mouthpiece al-Manar television, Free Patriotic Movement leader MP Michel Aoun on Friday blasted Progressive Socialist party leader MP Walid jumblatt for rejecting the proposed Orthodox electoral law and said the PSP leader is mourning his defeat since he will lose his colony in the Chouf and Aley , 2 key Mount Lebanon electoral districts.
Jumblatt is mourning his defeat is because under this law and he will lose his colony in Chouf and Aley "
Aoun who reportedly called to congratulate friends and foes after the approval of the Orthodox electoral law by by the joint parliamentary committees, denied that he has been celebrating the approval.
"I did not celebrate the approval of the Orthodox Gathering law and it is not a victory because victory is to be achieved during elections," Aoun said and added: "They always jump to conclusions and it was a coincidence that we celebrated my birthday the day the Orthodox law was approved."
Aoun blasted Future Movement bloc's remarks that claimed the Orthodox law "serves the Israeli enemy," and described them as "meaningless and absurd."
"No one can blackmail me with their remarks and it is shameful when politicians resort to such a rhetoric," he said.
Aoun stressed that "whoever votes against the Orthodox law is morally corrupt because they would be denying others their rights."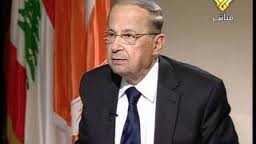 The FPM leader accused President Michel Suleiman of "practicing preemptive pressure on the Constitutional Council" concerning the constitutionality of the Orthodox Gathering draft law.
"I call on President Suleiman not to employ his stance that is not in favor of the Orthodox law to pressure the Constitutional Council," he said.
The president should have stayed neutral instead of voicing a stance on the Orthodox law to avoid influencing the Constitutional Council's decision," Aoun stressed
Aoun said "the only alternative" to the electoral law proposed by the Orthodox Gathering would be an electoral law that turns Lebanon into a single electoral district under a proportional representation system. This is the law that Hezbollah chief Sayyed Hassan Nasrallah has been promoting ever since the politicians started debating possible replacement to the current 1960 law.
The controversial Orthodox Gathering law has been slammed as sectarian. According to the proposed law, each sect would elect its own lawmakers only and Lebanon would be turned into a single electorate under a proportional representation system.
The proposal has already been rejected by President Michel Suleiman and Prime Minister Najib Mikati. It has also been severely criticized by Hariri's Future Movement bloc, Jumblatt's National Struggle Front and March 14 opposition's independent Christian MPs.
"Ever since 1989, Christians have been colonized, but today they are demanding their independence," said Aoun, stressing that "the Orthodox Gathering law will take us to a real unity."
"I am secular from head to toe and the demands I want to achieve through the Orthodox law do not reflect sectarian discrimination," he argued.
"I still insist on the statement I said one day, 'Abandon me if I ever become sectarian,' and I'm not discriminating among people, I'm rather defining their rights," he stressed.
"I insist on the 64 (Christian) lawmakers and I will not settle for less," Aoun went on to say.
Bahrain issue
In response to question over his remarks on the Bahraini uprising, Aoun said:
"The oppression against the revolution that started three years ago must end and it is enough to review Human Rights Watch's reports. Those who criticized me in Lebanon are trying to blackmail me."
Bahrain last Friday, summoned the Lebanese charge d'affaires at the Lebanese Embassy Ibrahim Assaf over remarks made by Aoun , which Bahrain considered "irresponsible meddling in its internal affairs."
Aoun had told al-Alam last Wednesday that the demands of the protesters in Bahrain are "fair and justified."
He criticized the Arab League and international community for failing to support the protests in Bahrain.
Aoun is closely associated with the Hezbollah militant group which , along with its backer Iran has been supporting the uprising against the monarchy in Bahrain.
Hezbollah chief Sayyed Hassan Nasrallah saluted the Bahraini revolution on Saturday during a televised speech.
Jumblatt on Thursday blasted Aoun over his remarks on Bahrain which he described as reckless, hasty and biased political stances and warned such a stance is damaging to Lebanese expats in the Arab countries.
President Suleiman urged all Lebanese politicians to abide by the principles of the Baabda Declaration and refrain from meddling in the affairs of other Arab countries and at the same time he told the Arab states to ignore remarks made by some politicians because they not reflect the official stance of Lebanon.
Suleiman's remarks come after Prime Minister Najib Mikati telephoned on Sunday his Bahraini counterpart Sheikh Khalifa bin Salman, stressing that Lebanon respects Bahrain's sovereignty and to ignore the stances voiced by some Lebanese leaders since they do not reflect the government's official stance.