Suleiman tells Arab states to ignore Aoun's remarks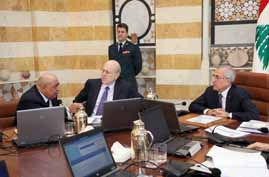 President Michel Suleiman urged all Lebanese politicians to abide by the principles of the Baabda Declaration and refrain from meddling in the affairs of other Arab countries and at the same time he told the Arab states to ignore remarks made by some politicians because they not reflect the official stance of Lebanon.
This was in reference to remarks made by Free Patriotic Movement leader Michel Aoun in support of the anti government protesters in Bahrain.
"The opinions of Lebanese politicians do not reflect those of the Lebanese Cabinet," Suleiman stressed
Bahrain on Friday, summoned the Lebanese charge d'affaires at the Lebanese Embassy Ibrahim Assaf over remarks made by Aoun , which Bahrain considered "irresponsible meddling in its internal affairs."
Aoun had told al-Alam last Wednesday that the demands of the protesters in Bahrain are "fair and justified."
He criticized the Arab League and international community for failing to support the protests in Bahrain.
Aoun is closely associated with the Hezbollah militant group which , along with its backer Iran has been supporting the uprising against the monarchy in Bahrain.
Hezbollah chief Sayyed Hassan Nasrallah saluted the Bahraini revolution on Saturday during a televised speech.
Suleiman's remarks come after Prime Minister Najib Mikati telephoned on Sunday his Bahraini counterpart Sheikh Khalifa bin Salman, stressing that Lebanon respects Bahrain's sovereignty and to ignore the stances voiced by some Lebanese leaders since they do not reflect the government's official stance.
The cabinet session was supposed to be held at the Grand Serail, but Suleiman reportedly intentionally moved it to Baabda to deliver the message from the cabinet to the Arab world about Lebanon's stance.
During Wednesday's Cabinet session Suleiman also told the ministers that Lebanon would remain committed to having the best relations with other Arab states.
Suleiman also denounced during the cabinet session a cartoon of Saudi King Abdullah bin Abdul-Aziz that was hung off a pedestrian bridge over the Jal al-Dib highway Tuesday . The poster portrayed the Saudi Monarch as the king of spades holding in his hand a sword stained with blood.
Suleiman asked Justice Minister Shakib Qortbawi to follow up on the case and to uncover the perpetrators responsible for the act. "Insulting the Custodian of the Two Holy Mosques King Abdullah bin Abdul-Aziz is totally unacceptable," Suleiman declared.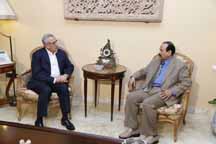 Following the Cabinet meeting , Saudi Ambassador Ali Awad Asiri visited Suleiman at the Baabda palace and thanked him for his support.
Asiri told reporters that Saudi Arabia is committed to maintaining good relations with Lebanon.
"What happened will not affect the strong relationship between the kingdom and Lebanon," Asiri added