Independent MPs vowed to fight the Orthodox law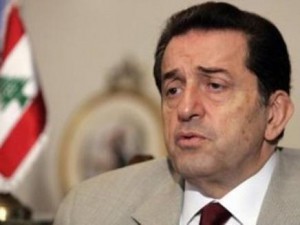 Lebanese independent Christian lawmakers met at MP Boutros Harb's house in Hazmieh, east of Beirut and vowed that they will fight the Orthodox electoral law in parliament to prevent it from being adopted .
"We all stand against this proposal and will fight to prevent it from being adopted in parliament," National News Agency quoted the MPs as saying during their Thursday meeting.
The MPs said after the meeting: "This law paves the way for the formation of sectarian statelets and the division of Lebanon in a manner that contradicts the country's diversity."
"We are determined to reach an agreement over an electoral law that preserves diversity and Christian rights and ensures fair representation ," they added.
Deputy Speaker Farid Makari told reporters following the meeting: "May God forgive our Christian allies who agreed on the adoption of the Orthodox proposal."
"The Orthodox proposal destroys the Christian presence and coexistence in Lebanon," Harb said.
The MPs accused the Hezbollah led March 8 camp of exploiting the electoral law debate in order to maintain its position in power even at the expense of delaying the elections, which are set for June.
The meeting was attended by deputy Speaker Farid Makari, MPs Michel Pharaon, Fouad al-Saad, Dory Shamoun, Antoine Saad, Nicolas Ghosn, former MP Kamil Ziyadeh, Elias Attallah, Jawad Boulos, Samir Franjieh, Michel Mouawad, and Antoine Haddad.
On Tuesday, Lebanon's joint parliamentary commissions approved in their second day of meetings the so called Orthodox gathering electoral law which stipulates that citizens should vote only for the candidates of their own sect.
This draft was endorsed by Lebanon's four major Christian parties, including the opposition Lebanese Forces and Phalange Party. However, the Future Movement, Progressive Socialist Party, independent March 14 Christians and Lebanon's president refused it on the grounds that it could lead to sectarian divisions in the country.
Future bloc MPs walked out of the joint parliamentary commissions' Tuesday session along with PSP lawmakers and independent Christian MPs, as voting on the approval of the second article of the Orthodox draft law was underway.