Bombings, clashes in Syrian capital, report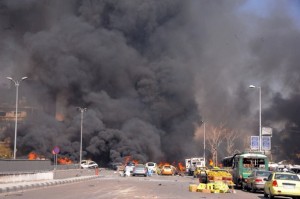 Beirut, Lebanon — A car bomb detonated a checkpoint near Baath party headquarters in Damascus set off a huge explosion Thursday, killing at least 40 and wounding 237, opposition groups said.
"Most of the casualties appear to be civilians," said the director of the Britain-based Syrian Observatory for Human Rights, a watchdog group that monitors the violence. The director uses the pseudonym Rami Abdulrahman.
The official Syrian Arab News Agency (SANA) reported a bomb attack in the Mazraa neighborhood of the capital, the neighborhood where the Baath headquarters are located, without mentioning its proximity to the offices.
The SANA article said 16 civilians were killed and more than 200 were injured in the bombing. "Huge material damage was caused to the houses of citizens in the area," the report said.
SANA described the attack as a "terrorist bombing," the term the official Syrian media use to refer to the opposition.
But a spokesman for the Free Syrian Army in Damascus denied any role in the attack, noting that the location of the bombing is an area with tight security that is not easy for rebels to reach.
Hussam Nasser, the spokesman, said there are also many civilian facilities nearby, such as schools and hospitals, which made the checkpoint an inappropriate target for the opposition. He blamed the attack on the Syrian government instead.
"The regime kills civilians. The Free Syrian Army does not," Nasser said.
The government and the opposition have each blamed the other for previous car bomb attacks in the capital as well.
Separately, the British-based human rights group reported bomb attacks against security facilities in the Barzeh neighborhood of the capital. But Abdulrahman said it was difficult to verify exactly what had happened and how many casualties resulted from that attack.
The human rights group also reported fierce clashes between the Syrian military and rebel soldiers and said at least two mortars had hit the Syrian military's general command headquarters in central Damascus.
The violence comes approximately two weeks after rebel fighters began a coordinated push into the capital after weeks of stalemate. The rebel offensive has been largely concentrated in the eastern and southern portions of Damascus, but the attacks on Thursday struck the north and center of the capital.
Video footage aired by the official Ikhbariya television channel shows huge plumes of black smoke swirling above battered and smoldering cars after the attack near the Baath party headquarters.
Several dead bodies can be seen laid out in a grassy area close to the explosion while firemen try to extinguish several cars on fire nearby.
A separate video posted online Thursday shows the damaged faced of buildings near the explosion in Mazraa and the charred remains of cars with nearby bodies covered in white cloth.
Photos posted by SANA also show several cars on fire at the site of the explosion in Mazraa as people who appear to be civilians tend to the wounded.
Washington Post