Patriarch Rai calls for a Christian Spring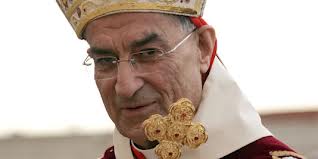 Maronite Patriarch Cardinal Beshara Boutros Rai reiterated on Sunday his call for a Christian Spring
"We are in dire need of a Christian Spring that would spread across the Arab world, he was quoted as saying by LBC.
This is the second time that Rai calls for a Christian Spring.
Last september and on the eve of Pope Benedict XVI's arrival in Lebanon Rai said:
"The language of hatred and violence, both regionally and internationally, will never bring about a new Spring, only the opposite" said Rai in a possible reference to the Arab Spring , the uprisings against the Arab regimes that started about 2 years ago in Tunisia and spread all the way to Syria.He added:"This is a region torn by conflict and war. It is important that the Church speaks a language of peace, dialogue and understanding, because the Arab world only hears the language of hatred and violence both regionally and internationally, unfortunately. Violence and war will never bring about a new Spring. Only the opposite".
Rai again today also praised the courage of Pope Benedict XVI who resigned from his post last week, stressing that the Holy Sea took 3 important steps towards Lebanon: First he visited and launched the Middle East synod from Lebanon, second he appointed him ( Rai ) as a new cardinal and third he called on the Lebanese youth to pray on Good Friday.
Rai has recently been mocked by a Saudi newspaper following his visit to Syria.
Rai's controversial visit to Syria, which was aimed at taking part in the enthronement celebration of the Greek Orthodox Patriarch of the Levant and Antioch Youhanna al-Yaziji, created a heated debate locally.
Rai is the first Maronite patriarch to visit Syria since the two countries gained independence in 1943. His visit was criticized by some Lebanese opposition politicians, but he emphasized that it was "merely pastoral" and that he had gone to "meet the Christians, notably the 60,000 Maronites," stressing that the church is "always against war and for dialogue."