Lebanese prevent tank trucks from crossing into Syria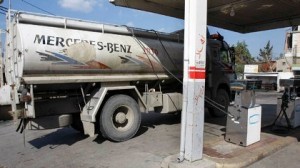 Lebanese protesters closed two major roads in northern Lebanon Wednesday to prevent fuel tank trucks from crossing into Syria, Lebanon's state-run news agency and security officials said.
The National News Agency said the protesters blocked the roads leading to Arida and Dabousiyeh border crossing points. Witnesses said the roads were blocked for hours with rocks and barriers, but then protesters reopened the roads for civilian cars and other vehicles other than trucks.
The protesters claim some diesel exported to Syria is being used by regime tanks in the country's nearly two-year-old civil war that has killed nearly 70,000 people.
The protests in predominantly-Sunni northern Lebanon came a day after the energy ministry denied reports that government-owned refineries were sending diesel to Syria. The ministry said private companies were sending fuel to Syria.
Syria is suffering a major crisis of gasoline and diesel. Oil pipelines have been repeatedly targeted and people have been forced to wait in line for hours in line to get gasoline or diesel for heating or generators needed because of widespread power outages.
Later Wednesday, security officials said a police force had to escort 22 tanker trucks driving from the southern Lebanese refinery of Zahrani toward northern Lebanon for fear they might be attacked.
They spoke on condition of anonymity in line with regulations.
Many in Lebanon fear Syria's civil war could spill across the border.
Lebanon and Syria share a complex web of political and sectarian ties and rivalries which are easily enflamed. Lebanon, a country plagued by decades of strife, has been on edge since the uprising against Syrian President Bashar Assad began in March 2011. Deadly clashes between pro- and anti-Assad Lebanese groups have erupted on several occasions.
Many among Lebanon's Sunni Muslims have backed Syria's mainly Sunni rebel forces, in which radical Islamists have become increasingly active. Lebanese Shiite Muslims, including the militant Hezbollah, have leaned toward Assad, whose tiny Alawite sect is an offshoot of Shiite Islam.
ABC/AP