Soccer racism raises concern in Israel, report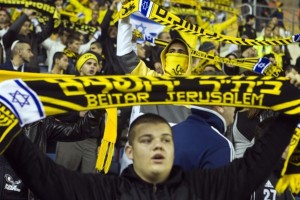 With 10 minutes left to play, Dzhabrail Kadiev, a Muslim soccer player from Chechnya, took the field for the first time for Beitar Jerusalem, a local team notorious for fan violence and racism. A chorus of catcalls went up from the stands, quickly drowned out by a welcoming ovation.
Yet every kick of the ball by the newly signed player was met with jeers and whistles, punctuating Sunday night's tense game that ended in a 2-2 tie with a squad from the Israeli Arab town of Sakhnin.
The signing of two Chechen players by Beitar's owner, Russian-Israeli oligarch Arcadi Gaydamak, has triggered an outburst of violent protest from the club's hard-core followers, long opposed to recruitment of Muslim or Arab players to the team.
The eruption has set off a national debate about racism in Israeli society, raising concerns that the diehard Beitar fans, with their trademark racist taunts and anti-Arab chants, reflect attitudes more prevalent than commonly acknowledged.
Since its founding in 1936 by a nationalist youth movement affiliated with what is now the Likud party of Prime Minister Benjamin Netanyahu, Beitar has had no Arab players, though they have starred on other premier league clubs and on Israel's national squad.
At a game last month, fans opposed to signing the two Muslims raised a banner reading "Beitar Pure Forever," which some critics said evoked the banning of Jews from German sports clubs by the Nazis. A group of fans later jeered the Muslim newcomers at a team practice, and on Friday, arsonists torched the Beitar offices, destroying a roomful of team memorabilia.
The racist protests have been linked to a fan group called La Familia that Beitar's management has been struggling to control. Last March, a crowd of Beitar fans emerging from a game surged through a mall near the stadium, chanting "Death to Arabs!" and beating Arab employees.
Despite a chorus of official condemnation of the latest violence — backed up by the indictment of six fans for incitement and a heavy police presence in the stands Sunday to prevent racist chants — several fans at the game insisted that they did not want Muslims or Arabs on their team.
"We're a nationalist club," said Lior Cohen, a student who wore Beitar's colors of yellow and black. "Arab Muslims have been trying to kill us for a hundred years, and we've gone through plenty of terror attacks. When I cheer my team I don't want to see someone who represents the other side. Next year they'll bring an Arab."
"Beitar Jerusalem," Cohen added, "is not just soccer. We have our ideology and we fight for our principles."
Mai Mitrani, 15, had a similar view. "Beitar has its own special character," she said. "It represents our identity, which is solely Jewish."
Inside the stadium, the Beitar management put up a large banner that said: "Violence and racism? Not on our field." Jerusalem Mayor Nir Barkat, one of several dignitaries on hand, said he had come to support team officials "in their fight against racism."
Netanyahu had a similar message at the weekly meeting of his cabinet, hours before the game. "The last thing we want, and which we absolutely reject, is violence, racism and boycotts," he said. "They must be uprooted from the public sphere, and, of course, from the world of sports."
With the beefed-up police forces discouraging the usual anti-Arab chants and ejecting violators, fans hurled abuse instead at Gaydamak and Itzik Kornfein, Beitar's general manager. He told Israel Radio last week that he had been battling fan racism for years, and that the latest events "have broader implications for Israeli society, and for the way we look to the outside world."
Eli Abarbanel, a deputy state prosecutor and a Beitar fan, said in a separate radio interview that many cases of racist speech he had encountered in his work showed that racism was "unfortunately a broad phenomenon in the Israeli public" and that "soccer is the symptom."
Tamar Hermann, who directs research on public attitudes at the Israel Democracy Institute, said that the behavior of the Beitar fans was an extreme expression of attitudes typical in societies embroiled in long-standing ethnic conflicts.
"Every society engaged in such a protracted conflict tends to develop certain negative stereotypes and to demonize the other side," Hermann said. The Beitar fans, she added. "are the radical edge of a wide spectrum which moves between acceptance [of Arabs] with suspicion and really racist attitudes that have developed in the minds of this specific group."
Watching Sunday's game, several Beitar fans said they wanted to close that chapter in their club's history and reclaim the grandstands from the extremists, whose violence had turned on their own club.
"I don't care where any player comes from, as long as he's here to play soccer," said Ovad Shazo, 40, a regular at Beitar games who said he opposed the abusive fans. "Those people won't destroy what we love."
Photo: Fans of Beitar Jerusalem shout slogans during a match against Bnei Sakhnin in Jerusalem, on Feb. 10, 2013. There was heightened security at the match following last week's arraignment of four fans in connection with racist incitement against the team's recruitment of Muslim players.
Washington Post