Aoun is waging a war on corruption in Lebanon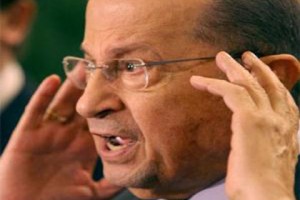 Free Patriotic Movement leader MP Michel Aoun reiterated on Monday his call for ending corruption in Lebanon by pledging to uproot it and  waging a war against it.
"We are waging a war to liberate Lebanese society from corruption." He said
Aoun made his remarks during the launching of the book "Al-Ibra' Al Mustahil", by the FPM, on lost public funds over the past few years.
Aoun added: "We have broken all the barriers and our dream will be achieved."
"We have realized that controlling public funds is the most important aspect of governing," he continued.
"We have long heard accusations about corrupt politicians and the ones who have come up with these claims are the thieves themselves," he noted.
"We have demonstrated that honest people do in fact work for the sake of the state and citizens have the right to press charges against those who squander their funds," he stressed.
Moreover, Aoun emphasized the need for holding those responsible for corruption accountable for their actions.
"We must advocate the culture of punishing those responsible as our society has been too forgiving," the MP remarked.
Aoun's ministers in the cabinet have been accused of corruption.
Many refer to his son -in-law Energy Ministry Gebran Bassil as thief-in-law.
Last March Lebanese Forces leader Samir Geagea launched a scathing attack against the Change and Reform bloc which is headed by Aoun , saying that its ministers in government were corrupt.
"The thing that saddens me the most these days is that those who spoke diligently about corruption for the past 20 years proved to be the most corrupt in Lebanon's history after taking charge of sensitive ministries in the government," Geagea told a delegation of doctors in Meerab, north of Beirut on March 21, 2012
Similarly March 14 MP Mohammad Hajjar criticized Free patriotic Movement and its Change and Reform parliamentary bloc last February .He said their ministers are failures … they think they can outsmart the Lebanese people, but their reform and changes slogan is nothing but corruption and misfortune .
Similarly last December Bassil was accused by MP Ghazi Youssef of suspending the construction project of a power plant in Deir Amar which was won by the Spanish company Abener-Butec because the Aounist company that bid for the project and his partner lost.
Youssef said: "Two companies related to the Aounists bid for the project ; one consortium was represented by Bassil's partner Charbel Habib and the other consortium was represented by Antoine Haddad who is a Aounist and both companies lost and that is why he is suspending the project. "
Charles Ayoub, Al-Diyar newspaper editor-in-chief accused Aoun in November 2011 of stealing $75 million US dollars from the Lebanese Ministry of Finance before he fled his headquarters in Baabda, where he was leading the war against the Syrian army.
"All men have the right to speak but not cowards ." Ayoub said in commenting about Aoun's call for ending corruption in Lebanon