Another Russian coal mine blast kills at least 18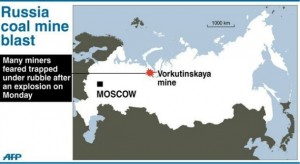 Russia's mine safety record is under renewed scrutiny after another deadly accident which has killed at least 18 miners.
The underground methane gas explosion happened at the Vorkutinskaya mine in the Komi region just inside the Arctic Circle, some 1,200 kilometres north-east of Moscow.
About 250 miners were underground when the gas exploded about 800 metres beneath the surface.
Russian president Vladimir Putin has already responded, promising more than $60,000 compensation to the family of each dead miner.
Methane gas explosions have killed hundreds of coal miners in Russia since 2007, with at least eight dying last month in a blast at a mine in Siberia.
A mine blast killed 110 people in the coal-mining region of Kemerevo in 2007 and another explosion in the same region in 2010 killed more than 60.
"We need a clear and understandable picture of what happened," emergencies minister Vladimir Puchkov told local officials and rescue workers via a video link-up soon after the explosion.
Temperatures sink far below zero in winter in the region, which was part of the Gulag network of prison camps under Soviet dictator Joseph Stalin, who died in 1953.
Russia's federal Investigative Committee said it had opened an investigation to check whether there had been any safety violations at the Vorkutinskaya mine, which has been in operation since 1973.
ABC News