Unlike Khamenei, Ahmadinejad welcomes direct talks with U.S.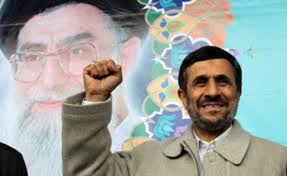 Iranian President Mahmoud Ahmadinejad on Sunday reiterated his desire to engage in direct talks with the United States, on the condition that the West stop pressuring his country.
"Take your guns out of the face of the Iranian nation and I myself will negotiate with you," he said at an event attended by tens of thousands of Iranians in Tehran's Azadi Square.
A fresh round of negotiations over Iran's nuclear program, involving Iran, the United States, Britain, China, France, Russia and Germany, is scheduled for Feb. 26 in Almaty, Kazakhstan. Last week, Iran's supreme leader, Ayatollah Ali Khamenei, said that talks between Iran and the United States would not solve the ongoing dispute.
But Ahmadinejad focused on direct talks during his annual speech to commemorate Iran's 1979 revolution. He is facing a range of challenges from his domestic opponents as well as international pressures, which have resulted in tough economic sanctions over the country's nuclear program.
Over the past week, Ahmadinejad publicly battled with his main political rival, saw one of his Cabinet members impeached, another ally jailed and became Iran's first president in three decades to visit longtime adversary Egypt. He had plenty of potential material for his speech, but he hinted that Sunday's event was one of celebration and not the place to publicly air frustrations.
In the address, which is akin to a state of the union speech, Ahmadinejad — who will complete his time in office later this year — did not break from the day's usual script of nationalist progress reports and lofty goals. But he did repeat the call for "free elections" in the June vote to replace him. The country has been embroiled in a debate over who will be allowed to run for president.
"In the coming election, all tastes and factions must be represented. No person can replace the nation or decide for the people," Ahmadinejad said, in an apparent reference to his main political rival, speaker of the parliament Ali Larijani, with whom Ahmadinejad is involved in a heated political battle that has become increasingly ugly in recent weeks. Each politician has accused the other's allies of fraud and corruption.
WP/AP