Rai, Syrian officials attend Yazigi's inauguration ceremony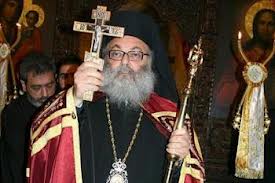 Lebanon's Maronite Patriarch of Antioch and all the East Cardinal Beshara Boutros Rai participated in  the   inauguration ceremony of the new Greek Orthodox Patriarch of the Levant and Antioch Youhanna X Yazigi , which was  held on Sunday at the Church of the Holy Cross in Syria's Qassaa , in the heart of Damascus.
Syrian Deputy Foreign Minister Faisal Mekdad also   participated  in the inauguration ceremony and he and Rai exchanged few words according to reports coming from Damascus.
Presidential Affairs Minister Mansour Azzam, a key adviser to Bashar Assad, was among ministers representing the embattled government.
Gregorios III Laham, Patriarch of the Melkite Greek Catholic Church, was also among the top spiritual officials present at the mass.
TV footage showed  Rai and Laham speaking with Mekdad as he entered the church to attend the ceremony.
Security was described as extremely  tight. Snipers were deployed on the rooftops around the church and guests  were whisked through metal detectors at the door, but their drivers were prohibited from parking, and the crowd  of devotees had to watch the ceremony  on a giant screen outside.
Following his inauguration, Patriarch Youhanna X Yazigi said that Christians and Muslims are not only partners in fate, but they built together the civilization of the country that should be preserved.
Yazigi thanked the Syrian President Bashar Assad along with other officials and said: "We hope that Syria would find a peaceful political solution so that violence ends and peace and stability prevail in the country".
Patriarch Yazigi also saluted the Lebanese President Michel Sleiman and said that anything that harms Lebanon or Syria would be harming both countries deeply.
Patriarch  Rai said that talking about democracies, reforms, and human rights is not worth shedding a drop of blood of any innocent man .  H said that he came to Damascus at a difficult time to confirm his solidarity with the "wounded" Syrian people.
"You have been chosen at a difficult time in Syria," he told the Greek Orthodox patriarch. "We stress unity and love among us."
"We are all brothers and sisters and we should preserve the life of humans," he said.
In remarks to LBCI, on Saturday Rai  said his visit is strictly spiritual and church related and denied that  it has  a political dimension.
Rai  has criticized the Arab Spring on several occasions and said that violence and bloodshed is turning it into winter. He has always been careful not to be seen supporting either side in the Syrian conflict but has adopted a position close to Assad's by saying reforms should not be imposed from outside.
As for the Melkite Greek Catholic Patriarch Gregorios III Lahham, he said that the 3 Patriarch are in Syria in order to work for the unity of the Christians as well as the Christian-Islamic unity in Syria in light of these difficult days.
Yazigi was appointed a deacon in 1979 and a priest in 1983. He was the Head of the Our Lady of Balamand Monastery from 2001 to 2005. In 2008 he was elected the Metropolitan of western and central Europe.
LBC